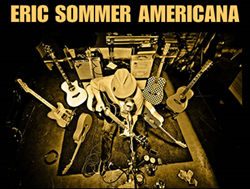 Remarkable and wonderful he's still here; this is meant to be; Thank you! Steve Balle, Tom Tom Record's, NJ
Memphis, TN (PRWEB) April 23, 2014
Eric Sommer finally used up all his 9 lives and found a new cat.
Now that's good for all of us.
A recent spot in Nashville at The Bluebird Cafe confirms that Mr. Sommer is at - or pretty close to - the top of his musical game. New songs are showcased on this tour, songs that will make it into the currently planned fall release of his next record, and these tunes are a bit of a departure for this artist.
Eric has stayed in the same general musical "feel" on this new disc, but is moving between different, varied and surprising instrumentation choices. By bringing a remarkable agility and musical instinct to this process, these selections work. The new crop of songs reflect a variety of themes, some melancholy, some gritty, and some just rough diamonds found in the back lot of a Hollywood set, abandoned years ago and recently discovered by fluke or the flip of a coin.
Sommer never disappoints, at least from what this writer has seen and heard. From New Paltz, NY, to Memphis, Tennessee and now Texas, fans - new and those already full of this magic musical Kool Aide - will be excited with this new crop of songs. This is focused and fresh creative output from this close-to legendary artist.
More writings are also in the works - short stories, a reading tour and more of the single page compositions so popular in Red Chairs, Black Pancake and Blue Turtles, the newest collect coming this Fall as well.
The Speakeasy is located in Downtown Austin at 412 Congress Ave, Austin, TX 78701 and can be reached by telephone at: (512) 476-8017. Mr. Sommer is in town for two nights 9pm - 1am.
With open tunings, slide guitar, lap-slap tone guitar and a remarkably aggressive fingering style approach, watching Eric Sommer will make you jump out of your seat and holler for joy! There are very few players who have maintained this authentic American style of guitar, and Eric Sommer is one of the very best.
______________________________________________________________________________________
For music samples, please visit Eric Sommer online for additional schedules or contact him at eric(at)ericsommer(dot)com or call 202-255-1995. Additionally, you can find Eric Sommer on Facebook, too. RAINY DAY KARMA is also available on iTunes and CDBaby.
Eric Sommer is represented by Clyde is Thinking, and PR programs are managed thru MTG/NY. For more information, promo/appearance requests or to set up an interview, please contact Tom Monihan 202-255-1995.