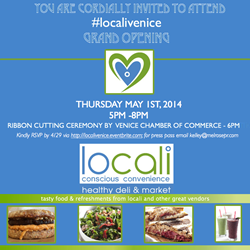 We've created a flavor profile with our menu that is distinctively Locali, every dish while healthy is hearty, too.
Los Angeles, CA (PRWEB) April 22, 2014
Locali Conscious Convenience, known for its specialty in healthy, cutting-edge, vegan and organic inspired menu options, celebrates the Grand Opening of the Venice, CA location, bringing their popular concept to the Westside. Locali's Hollywood location on Franklin is a celeb hotspot and has been a smash success, especially considering its tiny size of just 650 square feet. Conceptualized as a "7-Eleven meets Whole Foods", Locali, strives to continue its mission to serve the surrounding appreciative community in Venice while continuing to change and expand upon the natural food grocery and quick service restaurant model that is ready for both corporate and franchise growth.
Locali Conscious Convenience, one of the few quick service restaurant brands to feature an almost exclusively organic menu and natural foods market, celebrates the newest location in Venice on May 1st from 5-8PM with a grand opening event and ribbon cutting ceremony with the Venice Chamber of Commerce to commence at 6PM. Menu favorites and additional healthy treats will be served by their partnering natural food brands throughout the evening which is open to the public; however, RSVP is required. Guests can RSVP via Eventbrite at http://localivenice.eventbrite.com through April 29th.
With a focus on organic, natural, healthy ingredients including many vegan and gluten-free options, Locali offers a something for everyone. Their deli meats are of the highest quality - antibiotic, hormone, filler, gluten and casein free. The tuna is wild-caught, certified dolphin safe. The vegan cheese is soy and gluten-free. The produce and spices are certified organic and cutting edge vegan proteins like Beyond Meat are used regularly. "We've created a flavor profile with our menu that is distinctively Locali, " states Melissa Rosen, CEO, "Every dish while healthy is hearty, too."
With their use of organic and locally sourced ingredients, healthy food has never tasted better. Locali fans rave that the menu has "last meal worthy," "buckle your knees," "give up your first born," truly badass food that happens to be healthy. They offer coconut frozen yogurt, all natural slushies and hemp milkshakes for those with a sweet tooth along with critically acclaimed menu favorites like The Baaadasss Breakfast Sandwich (recently named one of the top 10 best new sandwiches in LA by Zagat) and Vegetarian Reuben that make eating vegan easy and convenient. Adding to the convenience, Locali delivers menu items via Far West Courier daily from 11am-9pm, a local bicycle delivery service.
About Locali Conscious Convenience
Headquartered in Los Angeles, Locali Conscious Convenience was founded by Melissa Adele Rosen and Greg Horos based on their shared passion for healthy eating and disdain for the status quo. Locali is located in Hollywood at 5825 Franklin Avenue, LA, CA 90028 and in Venice at 701 Lincoln Boulevard, LA, CA 90291. More information and the menu may be found at http://www.localiyours.com. Localita & The Badasserie is located in Downtown Los Angeles at 817 S. Los Angeles Street, LA, CA 90014 and on the web at http://www.localita.co For general inquiries please email info(at)localiyours(dot)com.
For media inquiries, interviews, or to request a press pass to the Grand Opening Event on May 1st, please email Kelley Coughlan of Melrose PR at kelley(at)melrosepr(dot)com, 310-260-7901, http://www.melrosepr.com.