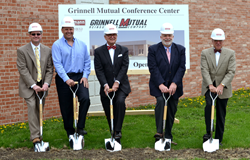 We are looking forward to the opportunity to host large-scale meetings in a state-of-the-art facility. ~ President & CEO Larry Jansen
Grinnell, IA (PRWEB) April 22, 2014
Grinnell Mutual Reinsurance Company celebrated the groundbreaking of its new 33,130 square foot conference center on Monday, April 21. The facility, designed to include a 250-seat auditorium, nine multi-purpose meeting rooms, a video conferencing room, dining services, and reception areas, will utilize the latest technology and provide onsite training and event space for the company's employees and customers.
"I am excited to announce that construction has officially begun on Grinnell Mutual's conference center," said President and CEO Larry Jansen. "Providing education and training is an excellent strategy for positioning our affiliated farm mutual companies, agencies, and Grinnell Mutual employees as leaders in the industry. We are looking forward to the opportunity to host large-scale meetings in a state-of-the-art facility."
The conference center will adjoin Grinnell Mutual's existing headquarters on the south side of the building. The new facility is scheduled to open in May 2015 with the company's Annual Meeting as one of its inaugural events in June. Grinnell Mutual also plans to make the facility available to the community for local events.
"The first phase of construction is to pave an additional parking lot," said CFO, Treasurer, and Vice President of Finance Dave Wingert, who is leading Grinnell Mutual's building committee. "Once that is finished next month, the second phase is to remove the existing southern lot and begin excavation for the auditorium and building construction."
Joining the company for its groundbreaking ceremony was Marshall Linn, president and CEO of Neumann Brothers Inc.; Chad Bunner, vice president of field operations for Neumann Brothers; Chris Missel, Neumann Brothers architect; Grinnell Mayor Gordon Canfield, City Manager Russ Behrens, the Grinnell City Council; and Laura Manatt from Poweshiek Iowa Development (POW I-80).
"We are currently in the process of working with the city to be voluntarily annexed. We appreciate the city officials joining us for this event," said Wingert.