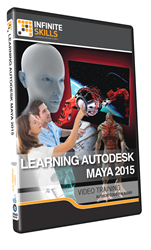 Learn Autodesk Maya 2015 at your own speed.
(PRWEB) April 22, 2014
Software training firm Infinite Skills Inc. this week introduced its "Learning Autodesk Maya 2015 Tutorial," an introductory course designed to provide new Maya users with a basic understanding of Maya's capabilities and tools for creating 3D models.
Autodesk Maya is a powerful 3D-model generating program with complete production capabilities built-in. Users can create a model and animate it, taking production from the initial stages of modeling through to a completed movie. Maya has been used to produce graphics for movies, games, and television, as well as for military and medical simulations.
With Infinite Skills' Learning Autodesk Maya 2015, new Maya users can get familiar with the core functions and basic workflow of this powerful program. Maya is a large, complex program, requiring years of use to master. With this well-planned introduction, users begin with a broad understanding of Maya, establishing a foundation in its critical capabilities and best practices for continued exploration.
Learning Autodesk Maya 2015 Tutorial Video - Streaming
Course author Todd Palamar began his career in special effects creating traditional blood and makeup effects for low budget horror movies. After eventually moving into digital effects, he has worked on notable films and games including the Die Hard Trilogy. He has also authored several books, including two covering specific modeling techniques in Maya studio projects as well as the official training guides for Maya certification.
Palamar begins with an overview of the basic Maya interface and navigation tools, and then gets deeper into Maya's toolsets, keeping things simple for the most part, as he introduces a variety of tools, including basic modeling techniques and texturing tools.
From there, the course moves into basic animation, explaining how to rig and weight your models for motion, and how to use key frames for animation.
The course closes with a chapter on rendering and lighting.
"Maya is an intriguing program with a very robust toolset and a proven track record in producing 3D graphics," Palamar says. "Our objective is to get familiar with the basic tools and working environment."
Free demo videos and a full list of course contents can be found on the Learning Autodesk Maya 2015 Tutorial training page of the Infinite Skills website:
http://www.infiniteskills.com/training/learning-autodesk-maya-2015.html.
Infinite Skills offers its Learning Autodesk Maya 2015 in DVD format and as a direct download from the company website at a retail price of $99.95, or as part of its new subscription service at a rate of $25 per month. All titles and formats are compatible with Mac and Windows operating systems. Shipping is available around the globe. Additionally, Infinite Skills tutorials are supported by project files which correspond to examples in the videos, allowing users to work alongside experienced instructors right on their computer or iPad.
About Infinite Skills Inc.
A leader in the field of software training, Infinite Skills designs its courses on a task-oriented model, teaching complex skills by providing hands-on examples and guiding users as they carry out essential functions. Infinite Skills offers a wide range of software titles available as DVDs, digital downloads, and in iPad editions. Infinite Skills now offers a subscription service, providing access to all its training content for a monthly fee, keeping with company's aim of delivering professional training to customers anywhere they want to learn.