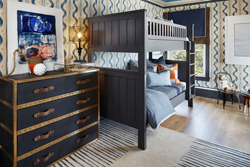 Classic, tailored elements combined with vintage-inspired nickel accents and distressed furnishings, create a space that is both playful and preppy, and conjures a nostalgic sense of boyish adventure.
San Francisco, CA (PRWEB) April 24, 2014
Marin based interior designer Shelley Cahan of Shelley & Company Interior Design is thrilled to be participating in the 2014 San Francisco Decorator Showcase. Founder and Principal Shelley Cahan, has transformed a little boys bedroom into an upscale retreat for the young gentleman of the house that touts the height of impractical decadence.
Youthful, vintage-inspired furnishings, bedding and accessories by Restoration Hardware Baby & Child and Serena & Lily hint at a worldly, well-traveled lifestyle while mature and muted shades of blue and gray are contrasted with youthful pops of persimmon adding a warm, rich appeal to the space. A room where affluence is apparent, this little gentleman's quarter boasts taste and sophistication but is also filled with boy-hood spirit and fun.
The 2014 San Francisco Decorator Showcase is open from April 26 through May 26, 2014 at 3660 Jackson Street in San Francisco. The house is open Tuesdays through Sundays and Monday, Memorial Day. The hours are Tuesday, Wednesday, Thursday, and Saturday: 10:00a.m. – 3:00 p.m. (last entry), Friday: 10:00 a.m. – 7:00 p.m. (last entry), Sunday and Memorial Day: 11:00 a.m. – 4:00 p.m. (last entry), CLOSED MONDAY (except Memorial Day).
Tickets are $35 for general admission, seniors $25. More information on this annual charitable event benefiting the University High School scholarship fund, can be found at decoratorshowcase.org.
About Shelley Cahan:
With over 15 years of design experience Shelley understands that the success of a design project lies in the precise comprehension and execution of the details. Shelley's depth of knowledge and expertise in the process of design extends beyond the aesthetics of a space. Her experience in managing a team of contractors, craftsman and artisans, sets her apart from the competition. When she's not working on the mechanics of a project, Shelley draws on inspiration from contemporary designers such as Ralph Lauren and the late Michael Taylor for their impeccable sense of style and acumen for creating well-edited spaces. The local designer garnered attention from the design community after boasting her talent in the 2013 San Francisco Decorator Showcase where she transformed an uninspired closet space into a decadent dressing room, telling a story of luxury, passion and entertainment. To learn more about Shelley Cahan, please visit http://www.shelleyandcompany.com/.