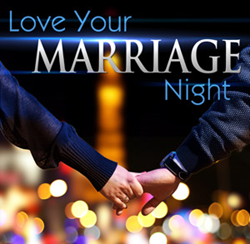 Join me for an evening of fun, encouragement and learning to strengthen your marriage and to rediscover intimacy.
Roswell, NM (PRWEB) May 15, 2014
Dr. Randy Carlson and The Intentional Living Center are happy to announce the "Love Your Marriage Night" event is coming to Albuquerque and Roswell. This event is aimed at helping married couples to better communicate, increase intimacy and have more fun with their spouses.
"Join me for an evening of fun, encouragement and learning to strengthen your marriage and to rediscover intimacy," says Dr. Carlson.
Saturday, June 7 – Church on the Move
Sunday, June 8 – Legacy Church
"I'm inviting you to take a break from all of the noise that we have in the world today and even in our own homes and put some fun back into your marriage," says Dr. Carlson.
Dr. Carlson is a licensed marriage and family therapist with a doctorate in counseling psychology and over twenty-six years of counseling experience. He shares wisdom, encouragement, and comfort from God's Word with people who call the daily Intentional Living program with issues that affect their families today.
"It's all about focus, so it's really cool and it gives you tools on how to focus your life," said a participant from a previous session.
Married couples who attend the event will learn:

How "intimacy goals" are the most powerful goals in marriage
The secrets of creating "love habits" for successful couples
The ONE THING every successful couple does that unsuccessful couples don't
How to intentionally "divorce proof" your marriage
For more information on these events, go to the Intentional Living web site at theintententionalife.com.
To arrange an interview, call Evan Carlson VP of Ministry at the Intentional Living Center at 602-570-0945.
About Dr. Randy Carlson:
When it comes to parenting, marriage, and other relationship issues, people are turning to best-selling author, counselor and radio personality Dr. Randy Carlson. Recognized as an advocate for the family, Randy hosts Intentional Living, a live daily call-in program syndicated to radio stations nationwide.
As president of Family Life Communications Incorporated, Randy also oversees the ministries of Intentional Living (Parent Talk, Inc.) and Family Life Radio.
Randy has written or coauthored five books: Starved for Affection, Unlocking the Secrets of Your Childhood Memories, Parent Talk, Father Memories, The Cain & Abel Syndrome and his sixth book, The Power of One Thing.