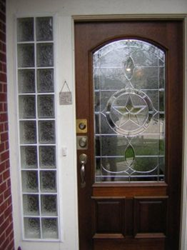 Glass Block Door SideLights will spruce up your front door this spring.
Pittsburgh, PA (PRWEB) April 23, 2014
Pittsburgh Corning Corporation, a leader in the glass block industry for over 75 years, is providing a spring home improvement project guide that will help Do-It-Yourself (DIY) homeowners construct Glass Block Door Side Light Windows. This guide is part of the Project of the Month series which includes other uses of glass block for exterior and interior home renovations.
The Spring Home Improvement project features the ProVantage® DIY Installation System. The ProVantage® DIY Installation System is designed exclusively for use with Pittsburgh Corning Premiere Series Glass Block, which are all made of real glass, quality tested and American made.
Glass Block Door Side Lights can add a great look to homes while providing privacy and security to your entryway. The installation system was designed to make home alterations simpler and more economical for homeowners. The system utilizes spacers to align and hold the blocks in place for easy assembly, and sealant is used to bond the spacer and blocks together.
"Glass block door sidelights will spruce up your front door this spring," said Mary Lynn Bruce, Marketing Manager for Pittsburgh Corning Corporation. "You can bring in the light and create a beautiful entryway without compromising security and privacy." Homeowners have the choice of six glass block patterns to makeover their entryway.
Homeowners looking to begin their own glass block door side light project using the ProVantage® DIY Installation System can follow these tips and instructional video:
1. Determine which glass block pattern you would like to use.
2. Review the materials list from Pittsburgh Corning for the Glass Block Side Light Window.
3. Use Pittsburgh Corning's Project Planner to familiarize yourself with how to install your project
Pittsburgh Corning Corporation strives to make home renovation easier. The installation guides are meant to streamline the building process and provide a stress-free and simple Do-It-Yourself project for homeowners.
For more information on how to use the ProVantage® DIY Installation System to construct your Glass Block Door Side Light Windows, check out the installation guide and materials list at glass block door sidelights project
About Pittsburgh Corning Corporation
Located in suburban Pittsburgh, Pittsburgh Corning is the leading glass block manufacturer of applied glass technology and systems for construction materials. Since 1937, Pittsburgh Corning has been on the forefront of innovative architectural glass block systems designing products that stand the test of time. As a leader in glass technology, Pittsburgh Corning provides glass blocks, high performance systems, cellular glass insulation, high performance windows, and designer shower kits for commercial, institutional, government and residential building applications. For more information visit pittsburghcorning.com