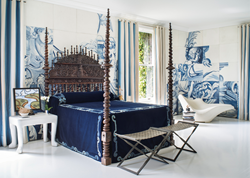 Staying true to honoring heritage, an antique Portuguese Bilros bed, lovingly preserved by Antonio's family since the 17th century, commands attention and is the primary inspiration for the space.
San Francisco, CA (PRWEB) April 23, 2014
San Francisco-based interior designer Antonio Martins, of Antonio Martins Interior Design, is pleased to be participating in his second San Francisco Decorator Showcase. Antonio Martins has turned an unimaginative master bedroom into a captivating space that takes a modern approach on historical elements.
Staying true to honoring heritage, an antique Portuguese Bilros bed, carefully preserved by Antonio's family since the 18th century, commands attention and is the primary inspiration for the space. Made of "Pau-Santo," an exotic rosewood, the design of the bed adheres to the strict guidelines of the period. "I have always loved this bed, which incorporates our family crest, and the Showcase was the perfect excuse to bring it to San Francisco," says Antonio Martins.
As a celebration of Portuguese culture, the walls are covered by blue and white tiles (Portuguese Azulejos), faithful copies of 18th century patterns and designs. Offering a 21st century twist on traditional form and pattern, Antonio has expanded the tile size and shuffled the images to become a modern piece of art. "I love the use of traditional designs and techniques in a whole new way."
A total of 243 oversized tiles were hand-painted by master decorative painters Linda Horning and Katherine Jacobus, working together for the first time on this incredible task.
The 2014 San Francisco Decorator Showcase is open from April 26 through May 26, 2014 at 3660 Jackson Street in San Francisco. The house is open Tuesdays through Sundays and Monday, Memorial Day. The hours are Tuesday, Wednesday, Thursday, Saturday: 10:00a.m. – 3:00 p.m. (last entry), Friday: 10:00 a.m. – 7:00 p.m. (last entry), Sunday and Memorial Day: 11:00 a.m. – 4:00 p.m. (last entry), CLOSED MONDAY (except Memorial Day).
Tickets are $35 for general admission, seniors $30. More information on this annual charitable event benefitting the University High School scholarship fund, can be found at decoratorshowcase.org.
About Antonio Martins:
Antonio Martins studied hotel management in Switzerland, and worked for 11 years building a successful hotel career in Asia. From Hotel operations to Hotel design, he puts his marks in some of the finest venues in Hong Kong, Bangkok, Argentina and most recently Chicago.
His residential career began in San Francisco, while obtaining a Masters of Fine Arts in Interior Architecture and Design. An artist at heart, Antonio brings an eclectic approach to interior design, with an interesting mix of antiques, modern artwork and contemporary furniture.
About Katherine Jacobus:
Decorative Artist Katherine Jacobus has been creating wonderful interiors based on antiquity, fanciful imagination and realism for over 20 years. A great conceptual thinker, Jacobus tailors each project to the individual client's needs and executes projects with skill and professionalism. Jacobus has been noted in San Francisco "Best of the Bay", she has had two profiles done on her in both the San Francisco Chronicle and California Home and Design, she was listed in Kay Evans book "Bay Area by Design – Secret Sources", and her work has been published in House Beautiful, Elle Décor, and the Chronicle. Jacobus holds a BFA in Illustration and Interior Design from Parsons School of Design.
About Linda Horning:
Linda Horning has worked as a decorative painter for 30 years. Working primarily in the Bay Area, she has had the distinct pleasure of working with some of the premier Decorators and Icons of style. She graduated from UC Davis with a Masters in Fine Art. Drawing from this fine arts background provides invaluable material and technical skills, as well as a broader historical perspective of style and design. Her work has been published in "Ann Getty Interior Style" by Diane Dorrans Saeks, and in the San Francisco Chronicle.