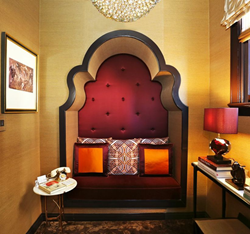 The unique discovery of a hidden telephone cabinet, built for the original homeowner, Alfred Sutro of Western Electric, is the inspiration for the design concept
San Francisco, CA (PRWEB) April 23, 2014
Interior designer Kristi Will, of Kristi Will Home + Design, is pleased to be participating in the 2014 San Francisco Decorator Showcase. Kristi and her team from KWH+D have designed a luxurious retreat that takes a nod to the glamour and timelessness that is true to San Francisco and the decorated times of this home.
The unique discovery of a hidden telephone cabinet, built for the original homeowner, Alfred Sutro of Western Electric, is the inspiration for the design concept. Kristi has cleverly weaved this discovery into her design by introducing a vintage Western Electric gold plated telephone into the space and transformed an uninspired storage space into an elegant yet cozy alcove. The alcove is a detailed and welcoming sanctuary, a place to relax and make a call to a friend about events from the day. A captivating Art Deco carving c. 1928 surrounds the alcove and is an understated representation of the original painted monkeys that adorned the walls.
The Lounge features fabric from Hermes, a contemporary interpretation of the iconic Chaine d'Ancre, as well as a Best & Lloyd Oyster Pendant as the final touch to this rich environment.
The 2014 San Francisco Decorator Showcase is open from April 26 through May 26, 2014 at 3660 Jackson Street in San Francisco. The house is open Tuesdays through Sundays and Monday, Memorial Day. The hours are Tuesday, Wednesday, Thursday, Saturday: 10:00a.m. – 3:00 p.m. (last entry), Friday: 10:00 a.m. – 7:00 p.m. (last entry), Sunday and Memorial Day: 11:00 a.m. – 4:00 p.m. (last entry), CLOSED MONDAY (except Memorial Day).
Tickets are $35 for general admission, seniors $30. More information on this annual charitable event benefitting the University High School scholarship fund, can be found at decoratorshowcase.org.
About Kristi Will:
For over twenty years, designer Kristi Will has created interiors that are rich in style, detailed, and welcoming. Her commissions often begin with only a few rooms but evolve into full home designs and renovations. Kristi's clients value her enthusiastic energy and her genuine understanding of their needs.