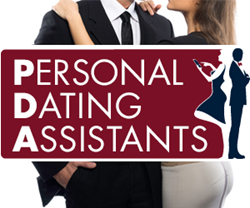 Online dating for men is hard work. Personal Dating Assistants is just doing what smart executives have done for decades; outsource.
New York, NY (PRWEB) April 22, 2014
The new service provides 2 - 8 guaranteed dates per month, for professional single men, who don't have the time, expertise or interest in doing it themselves.
When asked why guys hire an online dating consultant to message women online, Valentines says, "Online dating for men is hard work. Personal Dating Assistants is just doing what smart executives have done for decades: outsource."
Valentines says early adopters of the service are cash rich, but time poor.
"What we're seeing is men who would love to go on more dates with attractive women, but hate the repetitive pre-qualification game, common to all online interactions. Considering the average guy has to write over a dozen emails just to get 1 response, it's more a question of, 'how much is your time worth?'"
Because men outnumber women on dating sites, competition for the more attractive women online is significant.
"Online dating for men is a fiercely competitive sport. We position our members to dominate the playing field."
Personal Dating Assistants is the first company of its kind to gamify the online dating process, and reward employees based on their response metrics.
"I've been doing this for 20 years. Getting a date with an attractive woman online is a measurable, repeatable process, if you know what you're doing."
PDA's make dating site recommendations to members based on relationship interests, geographic location, demographic preference, and response performance. From there, a 1-2 hour personality deep dive is performed, where the assistant uncovers the attractive qualities of the member, and what sort of women he's interested in being set up with.
Next, a referral is made to a professional local photographer, and a dating profile writer is assigned, who leverages proven keywords that fit the members archetype.
Finally, assistants scout for women who meet the members criteria, make introductions, light banter, and close on phone numbers quickly.
"We purposely avoid deep correspondence online. In doing it this way, both parties minimize 'castles in the sky' syndrome. By handing it off to the client sooner than later, he can enjoy the real 'getting-to-know-you' phase, live & in-person."
The launch of Personal Dating Assistants follows the demand for even greater convenience in the online dating market.
"The rise of 'always on' mobile dating apps has made it easy to make fragile, superficial correspondence. For men hoping to make meaningful connections, the environment all but requires a shotgun approach up front, and a more personal touch later. Unless he's willing to make his effort a full time job, there just aren't enough hours in the day for men to setup dates consistently. That's where we come in…"
Successful men who can afford dating services for professionals have traditionally relied on matchmakers, or a dating coach for men.
"We're disrupting those models. PDA certainly includes elements of traditional dating services, such as phone coaching and match making. But we're providing guys more dates, and more control over the process, at a lower price point."
Personal Dating Assistants is for men only. Why not serve both markets?
"From an attractive woman's perspective, chemistry 'just happens'. But the truth is, men & women approach online dating completely differently. Attractive women use the sites as a screening tool. Whereas men have to put in lots of hard work, to make those connections actually happen."
Those looking for more information can find answers via Frequently Asked Questions, or visit the Online Dating Tips for Men section of the website.