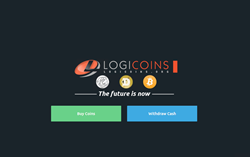 'Canada has played a crucial role in Bitcoin adoption, and we are elated to see operators deploying our technology in regions of the world which have been historically kind to crypto-currencies.' - Genesis Coin CEO, Evan Rose
(PRWEB) April 21, 2014
Genesis Coin is proud to unveil its Genesis1 model in Whistler, BC Canada, a West Coast tourist hotspot known for its world-class ski slopes. The machine is owned and operated by Logicoins.
Representing the next step in the evolution of crypto-currencies, the Genesis1 ATM differs from other Bitcoin ATM models in that the machine supports Litecoin and Dogecoin as well.
"As a West Coast resident, I'm very excited to release the Genesis1 in Whistler," said Genesis Coin CEO Evan Rose.
The machine was installed at West Coast Float, a flotation therapy center that provides a uniquely relaxing experience through float tanks, isolation pods, and sensory deprivation. West Coast Float is located at 7-4433 Sundial Place, Whistler British Columbia.
"We're confident in the North American Bitcoin ATM market," said Rose. "Canada has played a crucial role in Bitcoin adoption, and we are elated to see operators deploying our technology in regions of the world which have been historically kind to crypto-currencies."
Whistler Blackcomb is one of the largest ski resort in North America. In terms of size, Whistler is 50% larger than its nearest competitor and is visited by over 2 million people per year. The Genesis1's appearance in Whistler comes after Genesis Coin unveiled ATMs in Tijuana and Quebec.
The Genesis1 will be a crucial part of The Logicoins Resort Project, providing access for customers to a cash-in and cash-out crypto-currency ATMs with the added support of Dogecoin and Litecoin.
The Bitcoin ATM is now live and operating in Whistler. West Coast Float is open to the public from 10am-10pm each day of the week.
About Genesis Coin Inc.
Genesis Coin Inc. is a software development company focused on solutions for the crypto-currency market. The company's flagship ATM, the Genesis1, provides instantaneous conversion services between traditional currencies and crypto-currencies through a user-friendly interface. For more information, visit http://www.BitcoinATM.com.
About Logicoins
The Logicoins Network brings access to crypto and digital currencies in places where exchanges regularly take place and users frequently use booking and reservation systems. Logicoins provides easy access to automated cash in and cash out systems, potentially revolutionizing the entire travel industry. For more information, visit http://www.Logicoins.org.