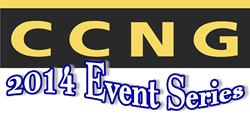 The networking connections with other customer care professionals in my own community will be invaluable to me...
Fort Worth, TX (PRWEB) April 22, 2014
CCNG International Inc. is pleased to announce the next May event of the 2014 Improving the Customer Experience event series hosted by CCNG member Ossur Americas at their contact center located at 27051 Towne Centre Drive, Foothill Ranch, CA. The CCNG events bring together industry professionals looking to identify strategies and best practices for customer service, contact center and customer experience management. The events this year are focused on customer experience improvements in five key areas –
Call Center / Contact Center
Social Media / Social Care
Customer Feedback and Satisfaction
Self Service and Support
Customer Loyalty and Rewards
The 2014 CCNG events began February 27th with member host Thompson Creek Window Company / Closet America contact center operation in Lanham, MD followed by the March 13th event in Charlotte, NC hosted by member Family Dollar. The CCNG April events included host Coca-Cola in Tampa, FL on April 10th and upcoming on April 24th in Phoenix, AZ hosted by Toyota Financial Services. In addition to this May event in Foothill Ranch, CA, CCNG will be hosted by Kohl's in greater Milwaukee WI on May 1st and JP Morgan Chase on May 7th in Columbus OH.
"CCNG members have hosted many events in the greater southern California area going back to the early days of CCNG in the 1990's by such diverse contact center operations as Los Angeles Department of Water and Power, Wells Fargo and Herbalife, " says David Hadobas, President and CEO of CCNG International Inc. "We are excited to bring our new agenda to this event hosted at Ossur Americas operations in Foothill Ranch and engage with so many new members."
This year CCNG events are focused on improving the overall customer experience. Attendees will gain valuable insights and perspectives from a wide range of industries including retail, travel, financial services, public utility, telecom, insurance, healthcare, BPO, and many more.
CCNG event attendees share their thoughts about participating:
"The CCNG member speakers were both enlightening and refreshing on subjects that are very current issues in my business. The small group round-table discussions gave us all the opportunity to share experiences and offer solutions. And the networking connections with other customer care professionals in my own community will be invaluable to me!" - Patricia Kaufman, VP Customer Care, Time Customer Service, Inc.
"The networking power alone from the CCNG event is worth the registration fee. Connecting with colleagues from various industries has given me an outstanding perspective that allows for a more objective view of current procedures and new initiatives" - Julie Silbar, Manager, Organizational Effectiveness, American Express Travel & Lifestyle Services.
"What I like about CCNG events is the willingness for like-minded professionals to honestly share what they don't know. At our recent session most of the attendees were interested in an omni-channel solution and improving first call resolution. Both the center managers and solution providers shared valuable, real life solutions without all the sales chatter. It was well worth the time." George Simons, VP, Global Contact Services, LLC.
The May event in Foothill Ranch, CA will feature a morning keynote from host/member Julie Garner-Osuna, Customer Service Manager, Ossur Americas. Following this keynote presentation will be the Open Town Hall "all attendee" group discussion led by our host and the sponsoring CCNG partners Avaya, and VPI – Voice Print International. After a networking break will be thought leadership "talks" from both sponsoring partners followed by an hour of small group sessions and a site tour. A very engaging day full of insights, feedback, peer perspectives!
For details on how to attend this event and guest pass availability, contact Ginger Graber, ggraber(at)CCNG(dot)com.
View program details at – http://www.CCNG.com
CCNG International Inc.
Founded in 1992, CCNG International Inc. CCNG is a member Professional Peer Network (PPN) for Contact Center and Customer Service Executives, Managers, and Leaders.
Within the CCNG Member Network, Contact Center and Customer Service Professionals:

Connect for networking and sharing best practices
Interact to enhance their professional network and gain valuable insight into Contact Center and Customer Service best practices and technology.
Share their experience and ideas contributing to the valuable discussion
All Call Center, Contact Center, Customer Care, Customer Service, and Customer Experience Professionals are invited to participate in the CCNG Member Network.
For more information about the CCNG Member Network and to gain access, please visit the CCNG web site. "Like" us on Facebook and follow us on Twitter @CCNGNetwork.
# # #