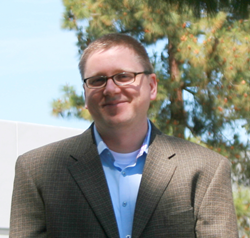 I feel it is important to help customers understand how a disruptive technology like SDN can benefit and grow their business," states Marschke.
San Francisco, CA (PRWEB) April 23, 2014
As the demand for education and solutions for software-defined networking (SDN) emerges in the market, Doug Marschke launches SDN Essentials, a company devoted exclusively to SDN solutions. "With major networking vendors, start-ups and open source initiatives presenting SDN solutions, it has become increasingly difficult for customers to find the solution that fits their needs. I feel it is important to help customers understand how a disruptive technology like SDN can benefit and grow their business," states Marschke. "The SDN trend is here to stay, and people need education, guidance and help with software and hardware decisions." SDN Essentials offers education & training, professional consulting and managed services. Marschke shares, "As a market leader for network engineering, I'm ready to push and drive the next generation."
For this launch and as a professional service, SDN Essentials offers SDN introductory courses perfect for VARs and their customers, network engineers, and leaders responsible for implementing their SDN solution. Open-enrollment options for one and two-day workshops are available online at http://www.sdnessentials.com and customers can also request a custom education program.
For the last two years, Marschke has been immersing himself into SDN, presenting at colleges and with partners, taking interviews on webcasts, authoring books, and joining leadership forums like Open Networking Foundation, OpenDaylight and the European Telecommunications Standards Institute.
Prior to his transition as the SDN Evangelist, and CTO/Founder of SDN Essentials, Marschke founded, built and sold Proteus Networks, a network services company that was the premier stop for routing and switching education and professional services. He created many of the Juniper certification exams, including the JNCIE Enterprise Exam and wrote and published JUNOS Enterprise Routing and JUNOS Enterprise Switching. Marschke has been the leader of true "engineering rock stars" and the largest group of Ingenious Champions at Juniper's top VAR and Partner of the Year. He is certified as JNCIE-ENT #3 and JNCIE-SP #41.
Since he graduated from the University of Michigan, Marschke has been on a mission with his ventures to help service providers and enterprises optimize their networks for better performance, cost and reliability. He's worked with national and international students, customers, partners, associations and peers, so he's prepared to take on and drive SDN education and solutions with SDN Essentials.
In his free time, Doug produces independent films for Funny How Films and hangs out at his San Francisco restaurants, Taco shop at Underdogs and Tacko.
About SDN Essentials
SDN Essentials is a professional services company focused on SDN Education & Training, Professional Consulting and Managed Services. We are the one-stop SDN shop to plan, build and execute your SDN strategies and your customers'. We provide a thorough and real world understanding of SDN and help bring quicker service offerings, additional revenue, full visibility and control into networks. http://www.sdnessentials.com