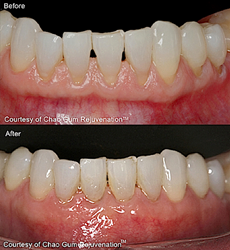 Montreal, Quebec (PRWEB) April 23, 2014
Dr. Joumana Charouk is the first dentist in Quebec to be certified in Chao Pinhole Gum Rejuvenation™, for correction of receding gums with no cutting and no sutures. "Chao Pinhole Gum Rejuvenation™ takes just a few minutes per tooth and multiple teeth may be treated at the same time, allowing patients to have healthy, normal-looking gums with a minimum of inconvenience," says Dr. Charouk, of Dents Mon Quartier dental clinic in Montreal. The treatment is also known as the Chao Pinhole Surgical Technique™.
Chao Pinhole Gum Rejuvenation™ is performed through a few small entry points, or "pinholes" which are made in the gums near the areas with recession. A special dental instrument is placed through the pinhole which Dr. Charouk uses to free the gum tissue and guide the gums down to a healthy position.
"Receding gums, or 'gum recession' can affect people at any age," says Dr. Charouk. Symptoms can include sensitivity to cold temperatures, and if left untreated gum recession can lead to eventual tooth loss. Receding gums can be caused by excessive tooth brushing, gum disease or by the normal aging process. "Many people are unaware of the condition until their teeth become sensitive. Others become concerned by the appearance of their receding gums," she says.
"The conventional treatment for gum recession has been gum grafting surgery, a procedure in which a section of gum tissue is cut out of the palate, then sewn on to the affected area," says Dr. Charouk. "Because of the surgery and recovery time required, most dentists will usually treat only one or two teeth, then they will wait for the patient to heal before treating additional teeth. The treatment process could take months for a patient with several recessions. When patients learn that their receding gums can now be corrected with Chao Pinhole Gum Rejuvenation™ they feel more comfortable about accepting necessary treatment."
The technique was invented by U.S. dentist Dr. John Chao. A 33-month study of 43 patients with 121 gum recessions using the Chao Pinhole Surgical Technique™ was published in the October 2012 issue of The International Journal of Periodontics and Restorative Dentistry. The results of this study show the technique to be as successful as traditional gum grafting procedures which require cutting and sutures.
How Chao Pinhole Gum Rejuvenation™ is done:
The area of gum recession is numbed with a local anesthetic. Depending on the number of recessions to be treated, two or more small entry points are made in the gum areas near the tooth or teeth to be treated.
A small specially designed dental instrument is inserted into the entry point and is moved to loosen the gum tissue, then guide the gums back to a normal, healthy position. Small collagen strips are placed through the entry point and positioned under the gums. The collagen helps to keep the gums in place during the healing process. The entire treatment takes about 20 minutes to an hour or so, depending on the number of teeth treated. The small entry site heals quickly, and patients may return to their normal activities. Some patients may experience mild swelling, which dissipates in a few days.
For more information on Chao Pinhole Gum Rejuvenation™ in Montreal please call Dents Mon Quartier dental clinic at (514) 367-4597. Visit http://www.pinholesurgicaltechniquequebec.com.
Dr. Joumana Charouk
Dents Mon Quartier dental clinic
1819 Avenue Dollard, Ville LaSalle Qc H8N 1T9