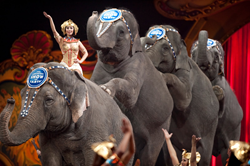 Denver, Colorado (PRWEB) April 22, 2014
It's been billed as the Greatest Show on Earth since 1919. While the slogan has become harder and harder to live up to in today's high-tech world, the 1880's-era extravaganza can still bring a thrill to the crowd.
This year, the centuries-old Ringling Bros. and Barnum and Bailey troupe is back with its Legends show. It's a carefully concocted creation of classic American circus culture, complete with lion tamers, dancing dogs, nimble elephants, silly clowns, and of course, a curious collection of acts from around the globe.
"There are three circus production companies touring this year with 66 cities and 577 individual performances remaining on the schedule," said Marta Ault at online ticket marketplace BuyAnySeat.com. "Tickets are trending very high across the country."
"That's why we're proud to offer fans the most comprehensive and continuously updated selection of circus tickets online, with a worry-free guarantee to protect their purchase," added Ault.
"To access the complete inventory of Ringling Bros. and Barnum and Bailey Circus tickets available, customers can go to BuyAnySeat.com and search for Ringling Bros. – then select their tickets."
In 1884, five of the seven Ringling brothers started a small circus during the same time that the Barnum and Bailey circus was at the peak of its popularity. Just like dozens of small circuses that toured the Midwest and Northeast at the time, the Ringlings moved their circus from town to town in small animal-drawn caravans.
Their circus rapidly grew and they were soon able to move their circus by train, and this enabled them to have the largest traveling amusement enterprise of that time. The Ringlings purchased the Barnum and Bailey Circus in 1907 and ran the circuses separately until 1919.
By that time, Charles Edward Ringling and John Nicholas Ringling were the only remaining brothers of the five who had founded the circus. They decided that it was too difficult to run the two circuses independently, and on March 29, 1919, the Ringling Bros. and Barnum and Bailey combined shows debuted in New York City.
The posters declared, "The Ringling Bros. World's Greatest Shows and the Barnum & Bailey Greatest Show on Earth are now combined into one record-breaking giant of all exhibitions." Charles E. Ringling died in 1926, but the circus flourished through the Roaring Twenties and beyond.
To shop for Ringling Bros. and Barnum and Bailey Circus tickets, visit BuyAnySeat.com.
About BuyAnySeat.com: An online ticket marketplace, BuyAnySeat.com connects sports, theater and other live entertainment fans to an extensive worldwide network of ticket sellers. The site's simplified listings and navigational tools enable fans to easily locate, compare and purchase inexpensive, discounted or lower-priced tickets to virtually all advertised sports and entertainment events around the globe.
The marketplace, which is PCI-compliant and Norton Secured, also provides customers with a complete Worry-Free Guarantee on all ticket purchases. Based in Denver, Colorado, BuyAnySeat.com is a subsidiary of Denver Media Holdings. For more information, please visit http://buyanyseat.com.