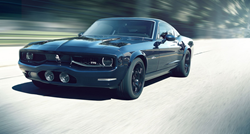 Detroit, MI (PRWEB) April 22, 2014
Solid Concepts Inc., a leader in additive manufacturing services, provided 3D printed and cast urethane pieces for prototyping and pre-production on Equus Automotive's BASS770. Equus' BASS770 defines a new era of the iconic American muscle car, merging timeless design and luxury with advanced manufacturing technology.
3D printing processes Stereolithography (SLA), Fused Deposition Modeling (FDM) and Selective Laser Sintering (SLS) were a few of the manufacturing technologies Equus Automotives relied on Solid Concepts to provide. Components Solid Concepts 3D printed included the grille, which was manufactured using FDM. The grille was used for form, fit and aesthetic checks on the BASS770 model car. SLS pieces were chromed and used throughout the car, including as levers for seat adjustment. Many of the cast urethanes were leather wrapped and used in the interior of the pre-production model. Solid Concepts has long offered a proprietary cast urethane process called QuantumCast™ which utilizes a platinum reinforced silicone tool. During casting, parts are subjected to a proprietary heat and vacuum process to ensure cast urethane parts are void-free. Other 3D printed and cast urethane components Solid Concepts produced for the muscle car included the instrument panel, headlight and taillight bezels, HVAC ducting, glass trim panel fender, console covers, seat belt covers and under hood components. The use of 3D printing on the BASS770 exemplifies the technology's readiness for functional showcase models, its durability and its adaptability to any application regardless of how complex and its viability in America's automotive industry. Video link: https://solidconcepts.wistia.com/medias/eklt2cwqfo
The 2015 BASS770 is a powerful vehicle born from a passion for genuine 1960's and 1970's era muscle cars. The seductive power of those timeless muscle cars, brought on by their unique fastback signature, enraptures and enthralls to this day. The EQUUS BASS770 sets a new bar in the international luxury automobile class as a brand-new muscle car bringing together the best of 21st century American technological savoir-faire.
To read more about this project, visit http://blog.solidconcepts.com.
About Solid Concepts
Solid Concepts Inc. (http://www.solidconcepts.com/ ) provides custom manufacturing solutions via additive manufacturing, rapid prototyping, CNC machining, cast urethanes, injection molding and tooling. Since 1991, Solid Concepts has provided engineering expertise from multiple fields to bring success to new products in the aerospace, medical, consumer product industries and more. Capabilities in PolyJet, Stereolithography (SLA), Plastic and Metal Laser Sintering (SLS & DMLS), Fused Deposition Modeling (FDM), QuantumCast™ Cast Urethanes, CNC, Tooling and Injection Molding allow for low to high volume production of plastics, urethanes, and metals directly from design data, resulting in significant time and cost savings. ISO 9001 and AS9100 certifications.