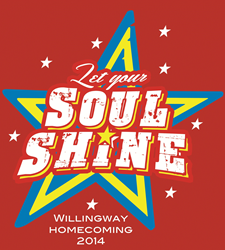 It will be a renewal weekend filled with laughter, hope & joy.
Statesboro, GA (PRWEB) April 23, 2014
Willingway, specialists in addiction treatment, will host their 38th annual Homecoming celebration April 25-27 at the Springhill Suites Conference Center in Statesboro, GA. The 2014 event promises to be a weekend of renewal in which attendees can celebrate recovery and share their experience, strength and hope with other Willingway alumni, family and friends.
The 2014 Homecoming theme is "Let Your Soul Shine!" Every year, Willingway staff submits theme ideas and one is chosen. The 2014 theme is inspired by the Allman Brothers song, "Soulshine."
Ever since the first Willingway Homecoming, which was held in 1976, the event has continued to grow and draws a large crowd from all over the United States and even a few attendees from different parts of the world. The 2013 event had a record breaking number of attendees with over 600 people in attendance. This year promises to draw even larger crowds.
Please visit http://www.willingway.com and click on the upcoming events tab to see the complete Homecoming weekend schedule. For more information about the event or to register, please call Willingway at 800-242-9455. Registration will also be held onsite.