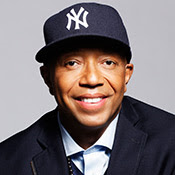 This has been a milestone year for Claremont Lincoln as we continue to grow into an independent graduate institution.
Claremont, CA (PRWEB) April 22, 2014
Claremont Lincoln University is pleased to announce that Russell Simmons – an internationally known entrepreneur, philanthropist and ambassador for peace – will speak at a festive celebration May 20 involving graduates, educational partners and community.
Convocation 2014: a Celebration of Graduates begins at 4 p.m. Tuesday, May 20 at Garrison Theater, 1030 Columbia Avenue, Claremont. The purpose of this inaugural event is to celebrate the achievements of students, the interreligious and academic partnerships of the Claremont Lincoln Consortium, followed by a celebration rich in tradition and culture.
"This has been a milestone year for Claremont Lincoln as we continue to grow into an independent graduate institution," said President Jerry Campbell. "We are hosting this convocation to thank everyone who has helped get us to where we are today, and to celebrate long-lasting relationships that will help us all continue to grow into the future."
The event is free, but reservations are required. Preference will be given to graduating students and their guests, Claremont Lincoln Consortium members (Claremont School of Theology, Bayan Claremont, Academy for Jewish Religion, California, University of the West and the CLU Centers for Jain, Sikh and South Asian traditions) as well as all of the Claremont Colleges. RSVP at http://www.claremontlincoln.org/convocation/. For information, email events(at)claremontlincoln(dot)org.
Simmons is a hip-hop pioneer, entrepreneur and philanthropist whose focus on mindfulness, compassion and ethical leadership has sparked a kindred connection with Claremont Lincoln University, a new Southern California graduate school empowering students to bring unlikely allies together across differing religious and cultural boundaries and to create innovative ways to put compassion, collaboration and wisdom to work in the world.
"We're incredibly excited to have such an important and influential world figure coming to speak at our convocation," said Campbell. "Russell Simmons has dedicated his life to bringing people together and I know his message will resonate with everyone."
Simmons co-founded the hip hop music label Def Jam and made hundreds of millions of dollars from that and other business venues including the clothing lines Phat Farm, Argyleculture and American Classics. He speaks and writes extensively on effective ethical business practices with a spiritual foundation of self-awareness and compassion for others and is involved in countless philanthropic efforts around the world.
ABOUT CLAREMONT LINCOLN UNIVERSITY
Claremont Lincoln University is a new institution, situated among the Claremont Colleges in Southern California, which prepares students to act as leaders in reducing conflict rooted in cultural, religious and ideological differences. Our students, faculty and graduates work in the fields of government, business, education and social services to facilitate solutions that can be applied to promote understanding and collaboration in the workplace, society and the world. Visit http://www.claremontlincoln.org.