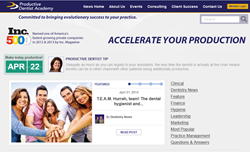 We really want to create a useful place for dentists to go where they can learn to be better business men and keep tabs on their industry
Anacortes, Wash. (PRWEB) April 23, 2014
Now it's easy for dentists to keep tabs on their industry. A new and comprehensive dental resource was launched last month by Productive Dentist Academy. The Dentistry News aggregation is a one-stop center for all news that's dental related, including articles, tips, videos, blog entries, and more.
"It is a place where you'll find words of wisdom, as well as Academy breaking news and tips from Vicki McManus, Bruce Baird and their team of experts in easy to read blogs," said Nomi Waters, a popular dental blogger. "It is full of information that will help you grow your practice and improve team relations. What I really like about this site is everything is in one spot, I can find blogs about everything from making financial arrangements with patients to sedation dentistry."
Topics cover such things as hygiene, finance, leadership, and marketing; and the articles themselves come from such trusted sources as Dental Economics, Dental Tribune, Inspired Hygiene, Academy of General Dentistry, as well as knowledgeable faculty from Productive Dentist Academy.
"We really want to create a useful place for dentists to go where they can learn to be better business people and keep tabs on their industry," said Vicki McManus, CEO and co-founder of the Academy.
In addition, Productive Dentist Academy's Dentistry News offers a place to download free educational white papers that will teach dentists how to manage their offices more efficiently, as well as a way to register for Webinars (free Webinars!) that will teach them to make improvements in such areas as "effective communication," "risk assessment," "marketing trends," and so on, all useful for helping them run more efficient and profitable dental practices. There is also a link for subscribing to a free newsletter from the Academy.
About Productive Dentist Academy:
Named one of America's fastest-growing private companies by Inc. Magazine in 2012 and 2013, Productive Dentist Academy got its start in 2004 and has since gone on to provide services and seminars nationwide. Owned by Dr. Bruce Baird (Founder and President) and Vicki McManus (Co-Founder and CEO), it advises dentists in the areas of public relations, dental marketing, hygiene, insurance/PPO negotiation, and other major fields of dentistry. Its team of highly trained consultants also helps dental practices execute agreed-upon plans to increase productivity, profitability, team building, service mix, hygiene department development, and more. Its headquarters is based in Washington State.