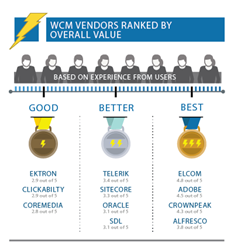 as it stands today, most Top Performing organizations still support a hodgepodge of siloed marketing technologies
Pleasanton, CA (PRWEB) April 22, 2014
Gleanster Research announces the publication of the brand new 2014 Benchmark Report on Web Content Management (WCM) that provides a comprehensive look at how Top Performing organizations optimize the customer experience on digital channels.
This 38-page Benchmark Report on WCM highlights the experiences and intentions of 202 companies and features analyst commentary on 37 solution providers. Ian Michiels, Principal Analyst, clarifies "Top Performers rank the online digital experience as a top two competitive advantage for their brand because they can set the bar with respect to customer engagement online. In most cases, legacy or custom-built solutions can't scale at the rate digital channels are evolving; it's not practical from a cost perspective either. We are also starting to see more WCM investments justified through a desire to optimize personalization (i.e. revenue), because in 2014 relevance drives revenue."
Adoption of WCM grew a staggering 16% between 2012 and 2013, based on Gleanster analysis – primarily fueled by mid-to-large enterprise investments. That's up from 9% between 2011 and 2012. Many organizations are constrained by legacy solutions that can't scale to meet the exponential growth of digital content. At the same time, emerging channels like social, mobile, smartphones, and tablets are driving demand for turnkey WCM offerings both on-premise and on-demand.
The best practices refined from the survey data and published in the Benchmark Report highlight two key reasons to implement WCM in 2014 according to Top Performers: optimizing the end-user experience (88% of Top Performers) and reducing content management costs (75%). As Michiels emphasizes, "One key takeaway from this year's WCM benchmark is integration. Everyone is talking about the comprehensive WCM suite approach, and Top Performers seem to buy into that strategy in the long-term roadmap. But as it stands today, most Top Performing organizations still support a hodgepodge of siloed marketing technologies. It's not always practical or feasible from an investment standpoint to move to a comprehensive suite approach."
"For this reason," he continues, "out of the box integration with best-of-breed marketing technologies like marketing automation, email marketing, CRM, eCommerce, and digital asset management is still paramount to extracting a return on investment in WCM for Top Performers."
This powerful report, available for free download, features vendor reviews of 37 WCM vendors, an analyst perspective on each, and vendor rankings based on the experiences of end users. Adobe, Alfresco, Clickability, Coremedia, CrownPeak, Ektron, Elcom, e-Spirit, Kentico, Magnolia, Microsoft, OpenText, Oracle, SDL, SiteCore, Telerik take top honors across four key dimensions of assessment.
To download the report, visit http://www.gleanster.com/gleansight/2014-web-content-management.
About Gleanster Research
Gleanster is a new breed of market research and advisory services firm. Its reports highlight the experiences of Top Performing organizations: why they invest in technology, how they overcome challenges, and how they maximize the value of their investments. Gleanster also aggregates outside thought leadership in the form of vetted white papers, research reports, and a directory of solution showcases featuring +3000 technology offerings organized by intuitive topic areas. For more information, please visit http://www.gleanster.com.