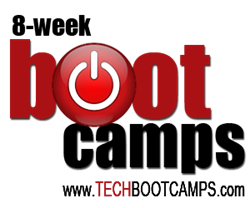 Web Developer Boot Camp Approved for Mass Veterans
Boston, MA (PRWEB) April 22, 2014
TECHBOOTCAMPS announced today that its Drupal Web Developer boot camps are now full-tuition eligible for all veterans in Massachusetts. The company also announced that as a result of this veteran approval, it will give preference in its Career Day program to employers that are looking to hire veterans.
Drupal is one of the most widely-deployed open source web development platforms in the world with over 1 million websites in operation, including 12% of the most trafficked websites. TECHBOOTCAMPS links to over 17,000 Drupal Developer positions on its 'Jobs' page, and the company said that the average annual Drupal Developer salary in most major cities is now in the $95,000 to $100,000+ range according to Indeed.com, with starting salaries in the $50,000 to $70,000+ range.
Tuition for students and non-Massachusetts veterans is $5900 for the 8-week boot camp, and includes a MacBook Pro or PC equivalent that the student keeps. If the student has his or her own laptop, the tuition is discounted by $1500 to $4400. The company also offers $500 scholarships for all returning military, all veterans – regardless of their state of residency, all women, as well as certain minorities who are underrepresented in the software engineering field. If a student chooses to use their own laptop, these scholarships will reduce the tuition for many of the students to $3900. The company says that their tuition is a fraction of the cost of attending a traditional college or technical school, and that they offer a Master Drupal Developer certificate upon graduation.
Joe DiDonato, the founder of TECHBOOTCAMPS, feels that this new training venue will offer a very compelling alternative to help fill some of the nearly 1 million high-tech jobs that have gone unfilled in the United States. "The problem that colleges and technical schools have in teaching technologies like Drupal is that the software undergoes version changes too rapidly," Mr. DiDonato went on to say. "The only way to get someone into this kind of a career field is to compress the learning time into a smaller window. Our 8-week boot camps accomplish that by flipping the classroom, and putting all of our lectures on searchable video technology. Students keep these video lectures for a year - including all updates - and can view them on their own time and at their own learning pace. During the day, our students work individually and in teams to build out a comprehensive portfolio of websites."
With 53% of college graduates unable to find work within four months of graduation, and with average private tuitions now over $121,000 Mr. DiDonato hopes that this new approach will help students transition into the workplace from colleges and technical schools. Mr. DiDonato also said that his company is in discussions with many technical colleges on ways to partner to help graduates find jobs in the business sector.
"We think that we provide a unique approach for people interested in transitioning to the web developer career field," says Joe DiDonato, the founder of TECHBOOTCAMPS. "Our mission is to make that transition affordable and quick; and we will go the extra mile to help them find jobs."
The company says that most of its students have 2 and 4-year degrees and want to change their career emphasis to web development. And now with this latest veteran program, these boot camps have become a viable alternative for returning military and other veterans wishing to enter the field. The company said that there is no age requirement to attend these courses, nor is a formal college degree necessary.
If you would like to find out more about this Drupal Developer training program, including tuition and student requirements, you can visit their website at http://www.TECHBOOTCAMPS.com. Information is available for Massachusetts veterans at http://www.TECHBOOTCAMPS.com/ma-veterans, and to find out more about the employer-partner program call 844.TBC.Drupal (844.822.3787) x 207.
About TECHBOOTCAMPS
TECHBOOTCAMPS provides 8-week programs that prepare students for their first job as a web developer in the Drupal CMS. The company uses a team of facilitators and experts in the Drupal content management system (CMS) to assist students while they build out their first websites using Drupal, PHP, PHPUnit, CSS3, HTML5, MySQL, Symfony, Git, JavaScript, JQuery, and Drush, as well as theme and module building. Students are encouraged to give back to Drupal.org by contributing a new theme or module as part of their portfolio. TECHBOOTCAMPS offers a tuition reimbursement program if a student takes a job with one of their contracted employers, and assists students with obtaining loans and scholarships. TECHBOOTCAMPS is full-tuition approved for all veterans in the Commonwealth of Massachusetts. For more details about this start-up, including both student and employer inquiries, please visit: http://www.TECHBOOTCAMPS.com.