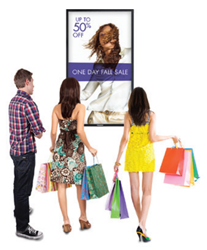 The combination of the VP71 industrial media player and IPM creates the ultimate & simple plug-and-play interactive digital signage solution for any market. - Lisa Schneider, Videotel's Vice President
San Diego, CA (PRWEB) May 13, 2014
Most retailers would agree that customer engagement is the pinnacle for business success. The shopping experience has changed, and today, many retailers are turning to interactive shopping experiences to enhance customer relationships. Maximizing a customer's hands-on experience within a retail environment ultimately improves mood and uplifts sales. Videotel Inc. recently introduced a unique and simple solution to help retailers turn normal digital signage into an interactive experience their customers won't forget.
Using a combination of Videotel's VP71 industrial media player and new interplay module (IPM), retailers can easily incorporate an interactive digital signage solution into their retail outlets. Whether it's used on video walls, digital signage kiosks, POS counters or HD televisions throughout the store, this combo solution allows customers to trigger specific video content with the touch of a button, use of a motion sensor or Videotel's wave-to-play device. The plug-and-play functionality of the IPM allows for easy integration of the VP71 digital media player with its RS232 ready port. The IPM control board allows for multiple size push buttons that can be illuminated and with custom text or with motion sensors.
Videotel's VP71 is an hd industrial grade digital media player with a lifespan of six years, designed for looping content. With RS232 functionality, the VP71 allows other electronics to trigger specific content at certain times of the day. The VP71 automatically powers on, auto plays and auto loops seamless content without interaction.
"The days of ordinary retail experiences are in the past. Competition for brand awareness is fierce. And for retailers wanting to engage their customers, an interactive shopping experience is the best way to go," said Lisa Schneider, Videotel's vice president of sales and market strategy. "The combination of the VP71 and IPM creates the ultimate plug-and-play interactive digital signage solution for any market."
For more information on the VP71 and interplay module combo, or any other of our industrial grade media players, visit the Videotel Inc. website at http://www.industrial-dvd.com, or call us at (800) 878-4056, ext. 27.
About Videotel Inc.
Videotel Inc. is the leading nationwide provider and manufacturer of Industrial and Commercial Upscaling HD DVD players, multimedia and audio players for digital signage and video content. Videotel is based in San Diego, Calif., with over 33 years of market experience in developing next generation unique and simple industrial digital products and solutions. To learn more about Videotel Inc., visit http://www.industrial-dvd.com.