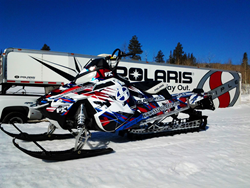 Power sports is our niche, so the evolution into moto . . . has been seamless.
Macomb, MI (PRWEB) April 22, 2014
Jordan Yankee, creator and owner of ArcticFX Graphics, cannot slow down. So it came as no surprise to his staff when he announced that he thought it was time to move in a new direction: creating their dynamic equipment wraps for another big-action power sport—dirtbikes, or moto, as it's called in the biz. Starting next month, MotoFX Graphics will begin taking orders for wraps that can be individually designed by consumers through the use of a new app called MotoWrapR™, a sister company to ArcticFX Graphics.
"Actually, ArcticFX Graphics is the result of my own frustration years ago," explains Jordan Yankee, owner of the snowmobile graphics production company and the new motorbike graphics production company. "Several years ago I bought my first sled. It was used, and I was certainly a novice, but I quickly came to love the sport. What I didn't love was the look of the machine, the graphics on it. I was working at General Motors at the time, and about all that was available back then for customization were decals made for cars. Those decals didn't really translate well to snowmobiles. I created a template and produced some graphics that I thought would look good for my own sled and they caught the eye of other riders. I made my first big sale in 2005, and launched my first ArcticFX Graphics website in 2006."
The website allowed Yankee to showcase the graphics kits already available for snowmobiles, and sales began to skyrocket. In 2008, a mutual friend suggested he should meet X-Games champion and Arctic Cat snowmobiles front man, Chris Burandt. Burandt, a Colorado native, had just started his Burandt's Back Country Adventures and the timing could not have been better for the two sled-loving entrepreneurs to get together. They agreed to do business together, and when Jordan Yankee returned to Colorado, he brought graphics kits to wrap all the Back Country Adventure sleds. His wraps also distinguished Chris Burandt's corporate sleds for the next few years. When Burandt made the switch from Arctic Cat to Polaris in 2010-2011, Jordan Yankee switched with him, but Arctic FX Graphics had become the industry leader in sled graphics by that time.
Winter came to a close in 2013 and Jordan Yankee reached another crossroad in his journey. "I had made huge strides in the production of the graphics kits and I'd had so much fun creating outrageous designs. But what I knew for sure, after eight years or so of doing this business is that people want what they want, and they usually know what they want. At this point in my business, I needed an app on my website that would be so easy that people could design their own graphics, and I could then produce their custom kit," said Yankee. The search for a designer was on. Enter Mike Wandzilak of Wandzilak Web Design.
"Mike Wandzilak, of all the web and app designers I spoke with, not only knew right away what I was asking for, he was quickly suggesting how I could make it better," laughed Yankee as he thought back. "We collaborated easily, he was affordable, accessible, and endlessly creative. As the graphic design app came together Mike pointed out that the website would need to be changed, so we did that too. We launched the new site with the app in the Fall of 2013 and it's been gangbusters. Power sports is our niche, so the evolution into moto seemed natural and has been seamless."
The MotoFX Graphics website will launch in the very near future and will feature the design app MotoWrapR™, which will allow MX enthusiasts to custom design the graphics they want for their bikes. MotoFX Graphics will produce the graphics designs and ship to the customer. Until the launch of the MotoFX website, examples of similar graphics kits for sleds can be seen on the ArcticFX website.
About ArcticFX Graphics and MotoFX Graphics
ArcticFX Graphics and MotoFX Graphics are graphic design production companies based in Washington, Michigan, USA. Customers can design their own graphics for either snowmobiles or dirtbikes using a specially developed application available on the websites http://www.arcticfxgraphics.com and http://www.motofxgraphics.com. Both companies were created by owner Jordan Yankee, an avid sled rider himself.