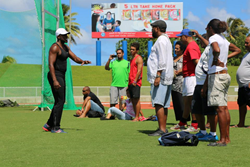 To be the best you must train your mind, body, and soul every single day.
Atlanta, GA (PRWEB) April 23, 2014
The clinics provide elite caliber training, hands on drills and techniques by five Olympic and World champion athletes with a combined total of 86 national and international medals.
Partnering with the Georgia Track Club, these highly acclaimed athletes will provide instruction on proper technique, speed, agility, and core training. In addition, the athletes will provide an up close and personal account of their experiences on the world's biggest stage.
"This is a unique clinic because it's the only one of its kind that is run by World champions and Olympians," explains Terrence Trammell, clinician and three-time Olympian and silver medalists in 110 High Hurdles. "All of us have trained extensively and learned a lot throughout our careers, we understand exactly what is necessary to take natural talent and ability to the next level."
In addition to the athlete's clinic there will be a coach and parent's clinic led by some of the most respected and accomplished coaches in track and field. The clinic will arm parents and coaches with tools to help develop their future olympians.
"From my experience traveling the world working with young athletes and coaches I have learned that meeting Olympic medalists, world champions and national champions can change the trajectory of their careers," says Olympic Gold medalist, Dwight Phillips. "It was important that we brought the clinic to Georgia because we are products of the georgia track and field system and want to see our rich athletic history continue to grow."
The Future Olympian Sports Clinic clinicians and coaches include:  (interviews are available)
Hazel Clark:  800 Meters Three-time Olympian – Olympic Finalist – Six-time US World Champion
Chaunte Lowe: High Jump Two-time Olympian – World Champion, American Record Holder
Dwight Phillips: Long Jump Olympic Gold Medalist – Five-time World Champion
Angelo Taylor: 400 Hurdles Four-time Olympian – Three-time Olympic Gold Medalist – Five-time World Champion
Terrence Trammell: 110 High Hurdles Three-time Olympian – Two-time Olympic Silver Medalist – Two-time World Champion – American Record Holder 60m Hurdles
Coaches
Coach JJ Clark: Olympian Coach, Winner, 21 "Coach of the Year"
Joshua Glass, DC: chiropractor, owner, Georgia Sports Chiropractic
Coach Nat Page: NCAA South Region Men's Assistant Coach of the Year
Coach John Williams: NFL, NBA, MHL, AHL, ATP and WTA strength and conditioning