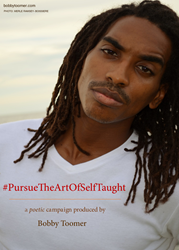 To #PursueTheArtOfSelfTaught do what's in your heart.
New Orleans, LA (PRWEB) April 24, 2014
#PursueTheArtOfSelfTaught campaign is an interactive multimedia art project that involves the use of an online petition & a spoken word video presentation to civically engage and poetically encourage people to pursue the Art of Self-Taught.
Conceptualized by performance artist Bobby Toomer who along with other performers interprets & reveals the meaning behind the campaign's message in the spoken word video presentation. Toomer in a few words communicates several points & theories in his poetic discourse to shed light on what is & how to pursue the Art of Self-Taught. In a nutshell, he defines that to pursue the Art of Self-Taught is to activate and follow your heart's intelligence.
At the end of the poetic presentation, viewers are prompted to make the commitment to #PursueTheArtOfSelfTaught by signing the campaign's petition on Change.org's website. This course of action is meant to challenge & engage one to be more active in the process of pursuing their dreams & heart's desire.
The inspiration for Toomer to create this piece of rhythmic verse, the electronic structure & artifacts surrounding it arose from the conversations with friends from his past. He felt concerned & remorseful about the consistent pattern of talk from past friends desiring to follow their dreams or passions in life, but didn't due to a lack of encouragement & little support from their social environment.
As a firm believer in the Golden Rule, Toomer refuse to treat the discontent sentiments of past friends expressing a legitimate need for personal change, as if they're a non-existent matter in the present. Thereby, #PursueTheArtOfSelfTaught campaign is a direct empathic response to offering the encouragement with spoken word & the supportive social environment through Change.org's online petition platform.
About Bobby Toomer
Bobby Toomer (aka Bobby T) is a native New Orleans performance artist. His works have explored social, environmental & holistic themes via acting and poetry. His poetry has been published in a contemporary anthology book entitled, Word Connections. Also, he's producer & host of Occasional Open Mic Nite, a fall season open mic event series that takes place in his hometown.
About Poetic Properties
Poetic Properties is a grassroots creative group that cultivates creative people & their properties (i.e. artifactual, intellectual, and/ or physical).