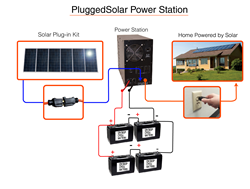 Our customers have been instrumental in making this affordable and reliable product suitable for ever increasing utility power cuts. - Sunil Sinha, Inventor
Houston, Texas (PRWEB) April 22, 2014
PluggedSolar has been providing grid tie solar power products. Its new product, the PluggedSolar's Power Station, will now set a new ground in the power industry – the ability to provide back up solar power, even when there is a utility power failure.
PluggedSolar Power Station interacts with the utility grid, rotating the power meter backwards and getting the credit from utility.
When the utility power fails due to weather conditions, the Power Station automatically switches to battery power.
The output from the Power Station is the same, 120VAC or 240VAC, as required in the home.
With PluggedSolar's Power Station, home owners will no longer be left in the dark when the utility power stops functioning.
During a power blackout caused by a utility power failure, the solar panels continue to generate power. This power is directly used in the home during day time and stored in the battery to be used later in the night.
In recent years, there are often electrical outages due to hurricanes in coastal states, snow blizzards in colder zones. These storms have impacted the lives of thousands of people across the country, whose basic survivability depends upon power.
PluggedSolar Power Station would become a valuable asset for the home at an affordable price.
There is already a 30% federal tax credit available for this.
PluggedSolar Power Station not only cuts the utility bill on the daily basis but is also a full-fledged power source during emergencies.
PluggedSolar customers are happy that their lights, refrigerator and kitchen appliances, laundry, cellphones,TV and computers will operate during blackouts. After all, the sun shines every day and generates power, whether there is a power blackout or an overcast weather.
ABOUT PLUGGED SOLAR COMPANY
It is a USA based multinational solar power corporation that focuses on appropriate innovative renewable energy products with an aim to solve energy and environment issues of the world.
The PluggedSolar DIY Products install in one day. It plugs into the regular wall socket as one plugs any appliance. The DIY kit is pre-configured and pre-wired system that reduces the cost of solar, making the installation simple, saving the homeowners more than half of the typical solar installation cost.