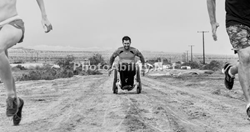 "Historically, advertising's emphasis on beauty and bodily perfection led to exclusion of disabled people in the images," according to Disability Studies scholar Harlan Hahn.
Miami, FL (PRWEB) April 24, 2014
Advertisers can now find active images of fit and healthy individuals with varying disabilities to help them bridge this current divide of "us vs. them".
According to Deborah Davis, disabled business owner and founder of PhotoAbility.net Disability Inclusive Stock Images, "Moving 'Disability Inclusive Imagery' into a mainstream concept, and for editors and creatives to select these types of photos (ex: wheelchair marathoner racing) has the value of increased Inclusion, acceptance and human rights that come from positive representation. This makes our work a worthy mission."
The library can be searched for images of marathons, water or snow skiing, horseback riding, tennis, kayaking, WCMX, off-roading, mountain climbing, etc., and feature quality photographers who are seeking an outlet and a market for this type of imagery.
These types of images are being represented more and more in society as sport and recreation has become a well-funded and supported agenda within the disability sector.
Normalizing disability via greater inclusion and repetition in advertising may be the answer to the desire of those who want to be seen as equal but different, accomplished and capable athletes and citizens.
According to the Society for Disability Studies representatives Beth A. Haller, Ph.D. and Sue Ralph, Ph.D.:
"Historically, advertising's emphasis on beauty and bodily perfection led to exclusion of disabled people in the images," according to Disability Studies scholar Harlan Hahn (1987).
"Hahn saw signs of hope in changing societal perceptions of disabled people through advertising. He cites many historical examples in which societal perceptions of physical appearances/attributes changed over time. Therefore, in the modern understanding of diversity as a profitable undertaking for businesses, the cultural meaning of disability imagery in advertising has been changing for the better (Haller & Ralph, 2001). As Hahn predicted, some social attitudes changed, and advertising that features disabled people became associated with profitability because of the audience's desire to see 'real life' in images. For example, Dickinson (1996) reported that households with a disabled person (49%) and those without one (35%) valued accurate advertising images of disabled people and were likely to buy products and services that showed sensitivity to disabled people's needs." http://dsq-sds.org/article/view/716/893
The market for disability images is immature but growing and there are too few market leaders outside the advocacy/disability product/service providers' area using images of people with a disability in a consistent manner.
Candace Cable, a gold medal winning Paralympian and blogger for the Christopher Reeves Foundation as well as an advocate and educator for disability issues eloquently stated:
"There is an underlying feeling of subconscious exclusion toward people with disabilities which is pervasive in our society. My feeling is the subconscious exclusion is, in part, due to outdated images of people with disabilities. Sports have the ability to cross boundaries and update those images."
PhotoAbility.net, via its online stock image library, offers a wide range of sports related imagery for purchase. PhotoAbility, as a new company born from the entrepreneurial spirit, appreciates the assistance and support it was given by others in our community and strongly believes in giving back and supporting the success of others with disabilities.
PhotoAbility was established in March 2012 by Deborah Davis and Bill Forrester with the goal of providing high quality, unique, non-medically oriented imagery of persons with disabilities for purchase by the advertising, marketing and media sectors. The Commercial Stock Image Library specializes in positive and "Inclusive" images of people with a disability in leisure, lifestyle and travel settings.
The 2000+ inclusive images depicted in the PhotoAbility gallery are designed to impact attitudinal bias, change perception and provide motivation to eliminate and reduce social, structural and professional barriers. A wave of change reflected in popular media and advertising can make an impact on laws and attitudes around the globe, and on how many with differing abilities view themselves.
For more information and to view PhotoAbility.net's positive, inclusive Stock Images, please visit http://www.PhotoAbility.net.