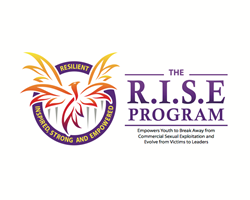 Redwood City, Ca (PRWEB) April 28, 2014
Youth who are commercially sexually exploited are frequently incarcerated – furthering their trauma, and have an average age of entry of 13. Corbett Group Homes, Inc. and The R.I.S.E. Programs will be the only programs in the state of California that will offer services to females AND males. The model openly acknowledges, respects and honors the identities and sexuality of youth who are LGBTQQ, and is the sole provider in the state that incorporates the "Survivor-Leader" model similar to AA/NA and is structured after GEMS™ in New York, NY.
Previously, on February 1, 2014, The R.I.S.E. Program launched The R.I.S.E. Thrift Shop in San Jose. All profit gained from the R.I.S.E Thrift Shop directly fund the R.I.S.E Drop-In Center – where youth are RISING UP. The R.I.S.E. Program believes that our youth are Resilient, Inspired, Strong and Empowered, and our goal is to assist victims of CSE (Commercial Sexual Exploitation) during their recovery process. The CSEC population is often actively pursued and controlled by criminals while facing the stigma and shame associated with being commercially sexually exploited. They experience extreme levels of trauma that can result in strong bonds with their exploiters. This strong bond makes it difficult to engage youth, and is similar to the connection created in domestic violence relationships.
The R.I.S.E. Residential Program will be truly unique in design and development, offering unconditional acceptance, non-traditional therapeutic methodologies (expressive arts) and an empowerment modality of working with the youth from within.
All clients who are referred to the R.I.S.E. Program Drop-In Center will be offered center services, including life skills development and self-sufficiency training, enrichment and recreational activities, as well as connections to resources and opportunities for long-term sustainability.
Corbett Group Homes, Inc. and The R.I.S.E. Program are both California Corporation Registered Non-Profits 501(c)(3).
The R.I.S.E. Residential Program: 413 Lincoln Ave, Redwood City, Ca 94063
The R.I.S.E. Drop-In Center: 855 Douglas Ave. Redwood City, Ca 94063