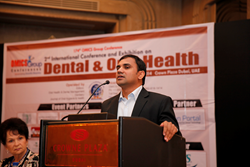 Brave out-of-the-box thinkers are transforming and renewing the conventional practice of dentistry.
Los Angeles, CA (PRWEB) April 23, 2014
Impressed by the recent success of the OMICS Group's 2nd International Conference on Dental and Oral Health during April 21 to 23 at Crown Plaza, Dubai, UAE, OMICS Group bagged an opportunity to conduct five more International Medical Conferences in Dubai during 2015. Dr. Srinubabu Gedela, MD of OMICS Group disclosed these details in a press conference today.
Mohamed Abdelmageed Awad, of the Egypt Association of Dental Research presented a paper on "Getting successful all-ceramic restorations"; Sammy Noumbissi from the International Academy of Ceremic Implantology, USA gave an insight of Ceramic Implantology through his presentation titled, "All Ceramic Implantology with Zirconia Dental Implants: Rationale, Case Selection, Treatment Planning and Clinical outcomes"; Dave Singh of BioModeling Solutions LLC, USA enlightened the audience about the "Changes in 3D nasal volume after biomimetic oral appliance therapy in adults"; Marie M. Tolarova of the University of the Pacific, USA spoke on "Prevention of cleft lip and palate and craniofacial anomalies"; Miroslav Tolar from the University of the Pacific, USA described about the "Bone tissue engineering in the oral and craniofacial regions"; James L. Ratcliff represented the Rowpar Pharmaceuticals, USA explained about the "Time's arrow in the treatment of oral and systemic disease"; Abdullah A. Faidhi from Saudi Society of Maxillofacial Surgery Saudi Arabia spoke on "Surgical management of obstructive sleep apnea (OSA) in neonate"; Mark Bowes represented the South African Academy of Aestheic Dentistry, South Africa presented his views on "State of the art multidisciplinary aesthetic dentistry"; Ninian Peckitt of Nicolas and Asp Center European University College UAE discussed about the "Engineering Assisted Surgery™ - The Gold Standard in Personalised Care", and finally, Isabel Rambob of the University of Maryland School of Dentistry, USA gave an insight on "HIV, TB & smoking."
Organized in collaboration with Saudi Society of Oral and Maxillofacial Surgery (SSOMFS), Alexandria Oral Implantology Association (AOIA), South African Association of Aesthetic Dentistry (SAAAD), Egyptian Association of Dental Research (EADR), London School of Facial Orthotropics (LSFO), Italian Academy of Aesthetic Dentistry (IAED), and the International College of Neuromuscular Orthognathology( ICNOG), Dental-2014 dealt with the diagnosis, prevention, and treatment of diseases of the teeth, gums, and related structures of the mouth and including the repair or replacement of defective teeth.
Dr. Dave Singh, President, BioModeling Solutions LLC, USA conducted a workshop on "Certification for the DNA applianceTM System" on April 23, 2014, in connection with this conference as a curtain raiser to this topic.
All the papers presented at the Dental- 2014 will be published in the proceedings of the Medline indexed Journal 'Oral Health and Dental Management.'
OMICS Publishing Group is a leading open access journal publisher and a scientific event organizer in the field of science and technology. OMICS Group publishes more than 300 online open access scholarly journals. Every year OMICS Group organizes over 100 International conferences across the globe. OMICS Publishing Group journals have over three million readers and strong editorial board which contains over 30000 eminent personalities that ensure a rapid, quality, and quick review process. OMICS Group Journals will publish the best papers presented in Dental- 2014.
For more details, please contact:
Ankit Dabur
Dental-2014
Clinical Conferences
5716 Corsa Ave., Suite 110
Westlake, Los Angeles
CA-91362-7354, USA
Office Ph: +1-650-268-9744
Toll No +1-800-216-6499(USA & Canada)
Email: dental2014(at)omicsgroup(dot)us