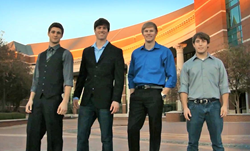 This has been a journey that has taught our team that no matter your age and the boundaries in front of you, persistence and determination to achieve your goals will open doors that you never knew existed.
Waco, Texas (PRWEB) April 22, 2014
Over the last year, four Baylor University students have identified a serious transportation issue on campuses across the nation—a problem they intend to solve.
Whether they drive a car or ride a bike, all college students face the frustrating pitfalls of commuting to class. Limited parking and high gas prices, as well as endless struggles with locks and keys, flat tires, and other repairs, complicate students' lives at colleges across the nation.
The founders of Campus Bike –Kyle Bogert, Jonathan Permetti, TJ Gawalis, and Paul Worrell– plan to support a more environmentally sustainable system of transportation to colleges through bike sharing. Bike sharing provides busy students with easy, 24/7 access to a group of bicycles shared by a community.
All of the founders of Campus Bike are freshmen, with the exception of Gawalis, who is a sophomore. According to faculty advisor Gib Reynolds, the young team has exceeded all of his expectations and defied the stereotypes typically associated with underclassmen.
"After working with countless groups of student entrepreneurs," Reynolds said, "I've been thoroughly impressed with the caliber of work Campus Bike puts forth. They've set the bar higher than many upperclassmen and I've got full confidence that they will succeed in this venture and whatever they tackle next."
The young entrepreneurs are driven by the frustration they share with their peers.
"I wake up every day pretty much running to class to be on time," Permetti said. "We know the needs of our customers and are able to suit them because we're living them."
Universities have taken an interest in bike sharing, but have been unable to implement the idea due to financial, logistical, and spatial concerns. Knowing this and knowing firsthand how busy and rushed college students often are, Campus Bike is taking the bike-sharing concept one step further by using "smart" bikes.
The "smart" bike eliminates the hassle of logging in, signing up, and locking and unlocking bikes at bulky kiosk stations by allowing the user to take care of everything through a tablet on the bicycle itself. The "smart" bike employs solar power, as well as cycle regeneration power, to charge the bicycle's battery.
With development underway, these innovative systems could be ready for launch as early as December 2014.
The team is determined to start by making a difference on Baylor's campus, but they will not stop there. Their vision is to revolutionize college campuses across the nation.
"One thing that consistently excites me about this team is their willingness to figure things out on their own" Reynolds said. "They don't need to be babysat and they aren't afraid to ask questions when they don't understand things. It's impressive and encouraging. I can't wait to see how far they take this idea."
Campus Bike will present its idea in the California Dreamin' Investor and Fast Pitch Competition at Chapman University in Anaheim, Calif. They will compete against 29 other teams for a first place prize of $70,000 with access to up to $1 million in equity financing.
Campus Bike's innovative solution provides a safe, easy, environmentally friendly method of transportation for students like themselves—students trying to navigate the endless sea of classes, jobs, social lives, and more.
For these four students, that sea includes starting a company that could potentially revolutionize college campuses across the nation.
"This has been a journey that has taught our team that no matter what your age is and the boundaries are in front of you," Gawalis said, "persistence and determination to achieve your goals will open doors that you never knew existed."
To follow the team and their progress, click the link below and like the Campus Bike Facebook page!