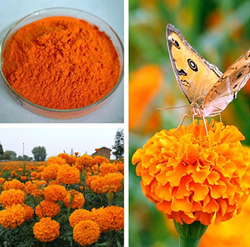 Irvine, California (PRWEB) April 22, 2014
Stanford Chemicals launches Lutein & Zeaxanthin (L&Z) Rich Marigold Extract today to help reduce the risk of chronic eye disease. This high purity Lutein & Zeaxanthin Rich Marigold Extract is now safe to be used in food, cosmetics and health-care applications, and is available for customers in America and Europe.
According to the American Optometric Association, "Lutein and zeaxanthin are important nutrients found in green leafy vegetables as well as other foods such as eggs. Many studies have shown that lutein and zeaxanthin reduce the risk of chronic eye diseases, including age-related macular degeneration (AMD) and cataracts. AMD and cataract incidence are growing. Worldwide, more than 25 million people are affected by age-related macular degeneration and the formation of cataracts. AMD is the leading cause of blindness in people over age 55 in the Western world and the incidence is expected to triple by 2025."
Michael Xu from Stanford Chemicals said, "There has been an increasing demand from our customers to introduce a high purity lutein and zeaxanthin product, which will give significant health benefits to our eyes. However, because of L&Z's poor solubility in water, it proved to be very difficult to purify. This meant it couldn't be added to drinks or other products. Stanford Chemicals is thus thrilled to have developed an innovative safe system that has allowed us to produce L&Z in an extremely pure form, thus widening its applications, and increasing its health benefits. It took an educated and bright team three years to achieve this result, and we are currently also developing water-soluble Lutein & Zeaxanthin for drinks companies. We hope that in the future people can enjoy the benefits of Lutein & Zeaxanthin as a healthy drink option."
Marigold is a rich source of a Xanthophyll called lutein, which shows anti-oxidant and anti-cancer activities and is beneficial to eye health. The human retina accumulates lutein and zeaxanthin. The latter predominates at the macula lutea while lutein predominates elsewhere in the retina. The free radicals generated by light can be cleared by lutein and zeaxanthin. Traditionally the world mainly consumed low purity marigold extract for feed industry.
About Stanford Chemicals
Stanford Chemicals has over 18 years' experience in the manufacturing and sales of phytochemicals, pharmaceutical intermediates, catalysts, lab equipment and a variety of special fine chemical products. To meet increasing demands of chemicals in scientific research, nutraceutical, pharmaceutical and cosmetic industries, Stanford Chemicals now provides a comprehensive variety of chemicals. They run a strict quality control system to ensure the product quality and safety. All the products are manufactured under GMP standard, strictly analyzed and provided with high quality at competitive prices. For more information, please visit Stanford Chemicals' website: http://www.bestherbalextract.com/.
Contact:
Eiman Elkhalifa, PR Manager
360 Goddard Irvine, CA 92618 U.S.A.
Office: +1 (949)-468-0555
Fax: +1 949 8126690
Times of availability: 08:30 - 17:30 (Monday-Friday)