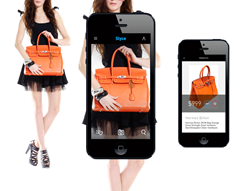 We see this move as another key step towards our goal of building the next great Canadian technology company.
Toronto, Ontario (PRWEB) April 22, 2014
Upon completion, Oculus Ventures Corp, a capital pool company, currently on the TSX-V, will acquire all the issued and outstanding Slyce shares and change it's name to Slyce Inc.
The Toronto & Calgary-based startup over the past six months has completed a $10.75M A-round financing, created a Nova Scotia based technology hub that intends to employ up to 60 staff, as well as the acquisition of Toronto Visual Search Startup Hovr.It and a computer vision technology from York University.
Slyce business strategy is to provide its visual search technology to the world's leading brands and retailers enabling their customers to snap a smartphone picture of any item they find in the real world, or hover over any image online, and be instantly provided with all direct, or close-matching products from the retailer's inventory. Items could then be purchased instantly - at the exact point of consumer inspiration.
Slyce Co-founder & Managing Director, Cameron Chell said of the announcement, "We are incredibly excited to be taking Slyce to the public markets and see this move as another key step towards our goal of building the next great Canadian technology company. The retail landscape is changing rapidly and we're experiencing strong demand for this technology from a growing list of Fortune 1000 brands which see the significance in the service we offer – namely, enabling much of the physical world to be their showroom."
Oculus stock was halted at the close of trading Monday, April 21, 2014 and will remain so pending regulatory and shareholder approvals.
-ENDS –
About Slyce
Slyce is the only visual search engine of its kind. Never before have retailers or brands had so much influence on purchase decisions, because never before have customers been able to shop how they can shop with Slyce.
Slyce gives retailers and their customers the power to search something using only images on both mobile and desktop devices. Slyce's innovative technology makes it the only software able to recognize products based on nothing more than visible qualities like colour and material.
For image download and further company information please click for the Slyce Media Kit
For further information and interviews, please contact:
Josh Stanbury | josh[at]businessinstincts[dot]ca | T. (416) 628-7441