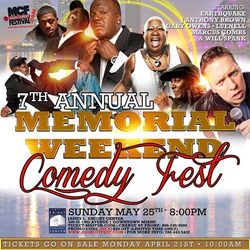 ...this line up of comedians will sure have the audience rolling out their seats.
Miami, FL (PRWEB) April 22, 2014
Time to gear up for another night of fun & laughter. Once again, its time for one of the best comedy shows brought to Miami all year. The 7th Annual Memorial Weekend Comedy Festival is back in full swing to bring you undoubtedly another night of none stop humor and entertainment. With a star studded cast of comics such as Earthquake, J. Anthony Brown, Gary Owens, Marcus Combs, this line up of comedians will sure have the audience rolling out their seats.
This year Miami Comedy Fest will feature Will Spank. This comic has had many TV appearances and made his network debut on BET's Comic View in 2003. He all toured with comedian, Kevin Hart and is more recently inn for his role on Nick Cannon's Wild N Out. Ladies dish out 16 years of comedienne experience that is sure to be raw, honest, edgy and energetic. Memorial Day Weekend draws millions of tourists nationwide. Miami Comedy Fest's success has been one of the weekend's main attractions for the past 6 years and shows no signs of slowing down anytime soon.
This year, the Memorial Weekend Miami Comedy Fest will focus their support on the 501(C)3, Not For Profit Organization, Team Action, Inc. As Miami is known for the glitz and glamour, MCF is dedicated to bringing awareness and extending support to the many projects that promote a better quality of life for many disadvantage youths in the inner city of Miami.
Throughout the years, this Comedy Festival has combined cleverness, thought provoking material delivered with an animated enthusiasm, keeping the audience of all ages howling with laughter and coming back for more. With such a creative line-up of comedians blessing the stage this year, this is sure to be an experience to remember.
Coming off of last years sold out event with Tommy Davidson, John Witherspoon, Faizon Love, and Michael Blackson, the 6th Annual Memorial Weekend Comedy Festival plans to be a stellar comedic performance. For the past six years, CEO of New World Entertainment and Miami Comedy Fest have produced the only annual Memorial Weekend comedy show in Miami. "Every year, we want to bring on board new talent and comedians and produce a great show to give the people of South Florida. The 2013 show lineup will not disappoint," states Chad Thomas. "The weekend is full of partying and beach fun, but come Sunday night it's time to have a good laugh before you head home on Monday," Chad continues. With an incredible lineup of features, the 6th Annual Memorial Weekend Comedy Fest boasts the comedic legend Bruce Bruce and exciting special guests such as the hilarious Corey Holcomb, Shawty Shawty of MTV's Wild 'n Out, Cocoa Brown from Tyler Perry's For Better or Worse sitcom on the Oprah Winfrey Network and Def Comedy Jam alumni Red Grant.
About Miami Comedy Fest http://www.miamicomedyfest.com
Miami Comedy Fest has become a signature platform created to promote success for many local comedians as well as show case legendary talent from across the nation. Miami Comedy Fest hosts annual productions and weekly events featuring a collection of different kinds of talent.
About Team Action, Inc.
Team Action, Inc. is a 501(c)(3) not-for-profit organization that provides affordable youth services for disadvantaged youth in Miami, Florida. These services are fostered in an environment that is safe, fun, well structured, and academically enriching. Our agency creates innovative projects that focus on three components: Education, Recreation, and Community Involvement. We believe that these components will guide our youth into being productive citizens in society.
About James L. Knight Center
The James L. Knight Center is located in Downtown Miami. Tickets went on sale Monday March 22, 2013. Tickets can be charged by phone at 800.745.3000 or bought at the James L. Knight Center box office. Additional information can be found on http://www.miamicomedyfest.com.