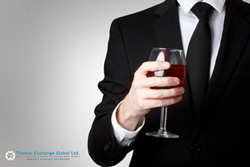 A large number of importers are competing in firstly competitive wholesale wine markets. The margins are becoming thinner and it is important to look at ways to reduce overheads
London, UK (PRWEB UK) 28 April 2014
UK will remain as the world's sixth largest wine consumer with sparkling and still wine consumption to the value exceeding 1.6 billion a year as reported by an in depth report by Harpers.co.uk. While white wine remains the preferred choice among consumers compared to red wine, the forecasted increase is 19% during the next 4 years.
The report also identifies Spain as the largest supplier of wine to the UK followed by France and Italy. "A large number of importers are competing in firstly competitive wholesale wine markets. The margins are becoming thinner as the average retail price per bottle remains at £5.04 and it is important to look at ways to reduce overheads," stated Trevor Samuel, Marketing Manager of Thomas Exchange Global.
Usually wine importers pay £25 up to £40 per overseas transaction and the exchange rates are also not favorable compared to market rates. Thomas Exchange Global Ltd offers a cost effective solution to wine importers.
Trevor continued, "Compared to a fee of £25 and over by high street banks, our money transfer service is free of charge if the amount is over £10,000, while a fee of just £12.50 is charged for amounts less than £10,000."
Using an alternative money transfer service can greatly reduce the cost to wine importers and help their businesses grow. This in turn boosts the economy as they are able to increase the amounts they import into the UK economy.
Thomas Exchange Global also offer very competitive exchange rates compared to high street banks and money brokers, making the overall transaction lucrative to the importer.
Their experienced dealers can guide new customers to open an account and transfer money abroad with minimum hassle. They facilitate international money transfers at any of their 6 branches in London and online as well.
About Thomas Exchange Global
As dedicated foreign exchange specialists, Thomas Exchange Global has the professional expertise, in depth market knowledge, technological infrastructure and commitment to provide an unprecedented level of service that sets the standard in the foreign exchange industry. They are specialists in all areas of foreign exchange. They provide commission free currency as well as travellers cheques.
Thomas Exchange Global also offers International Money Transfer Service where funds can be remitted to overseas bank accounts within 1 to 2 days. With commission free service for transfers over £10,000 backed by competitive exchange rates, customers are assured of a better deal and a substantial saving compared to banks and money brokers.
Thomas Exchange Global branches are located at Strand, Victoria Street, Liverpool Street, Hammersmith, Cannon Street and Wormwood Street.
For further details visit http://www.thomasexchangeglobal.co.uk or call 020 7240 1214.