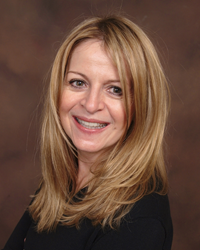 We all go the extra mile for our clients. I feel privileged to have won this award and join past winners whom I respect very much. - Mary Krische
New City, NY (PRWEB) May 17, 2014
Joseph Rand, Managing Partner of Better Homes and Gardens Rand Realty, revealed his firm's 2013 real estate sales results during their annual meeting last month, and one of the bright spots was the announcement of the 2013 Rookie of the Year. This year the honor goes to REALTOR Mary Krische. Krische has an extensive background in sales, marketing, legal work, compliance and banking, but 2013 was her first full year as a New York real estate sales professional.
"At BHG Rand Realty, the Rookie of the Year Award is given to a newly licensed agent who achieves an outstanding performance in their first licensed year and who exemplifies the spirit and core values of Rand Realty," explains Rand. "Mary Krische outperformed all other first year agents during the 2013 sales year. On top of that, she has gone above and beyond to provide exemplary service to her clients. We are extremely pleased to honor her with the title of Rookie of the Year for 2013. She has clearly earned it."
Krische has been a home owner and resident of Rockland County for over 15 years. She is a member of the National Associations of REALTORS, the New York State Association of REALTORS, and the Hudson Gateway Association of REALTORS. She is also a member of the Hudson Gateway Multiple Listing Service.
Mary Krische lives in West Nyack with her husband Joe, and her two children. She explaines "that she can't think of living or raising her children anywhere else but Rockland County."
"I started my new career in real estate because I love it! I am thrilled to be part of the BHG Rand Realty Family! I know how to listen to what my clients need and know what is important to them. Whether they are buying their first home, or selling their second home, my clients know that they can count on me day and night to put their best interests first," explains Krische. "They have my loyalty, commitment and tenacity. There are so many great salespeople at BHG Rand Realty that I work with every day. We all go the extra mile for our clients. I feel privileged to have won this award and join past winners whom I respect very much."
Mary Krische can be contacted at (845) 641-0465 or via email at Mary.Krische(at)randrealty.com.
About Better Homes and Gardens Rand Realty
Better Homes and Gardens Real Estate - Rand Realty, founded in 1984, is the No. 1 real estate brokerage in the Greater Hudson Valley with over 25 offices serving Westchester, Rockland, Orange, Putnam and Dutchess counties in New York and Bergen and Passaic counties in New Jersey. Rand has more than 800 residential real estate sales associates, as well as a commercial real estate company (Rand Commercial Services), and the Hudson United Group providing residential mortgage lending, title services, and commercial and residential insurance. The companies can be found on the Internet at: http://www.randrealty.com, http://www.randcommercial.com, and http://www.hudsonunited.com. Rand Realty is also on Facebook and Twitter.