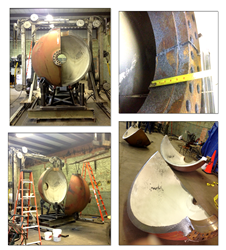 Greenville, AL (PRWEB) April 23, 2014
A custom-built diamond wire saw's ability to cut 2.75" thick exotic steel was successfully tested on an 84" diameter metal sphere last week. The nuclear bolosphere from Los Alamos National Laboratories was efficiently segmented at the Bluegrass facility in Alabama, with no accidents and complete containment of materials. The patented four wheel drive design sliced through 625 square inches of exotic steel with an average cut time of 1.3 square inches per minute, running continuously for just over 8 hours.
Working on a four week timeline, Bluegrass engineers and technicians designed, fabricated, and tested the specialized diamond wire saw and support structure to be used for segmenting steel spheres at the nuclear facility in New Mexico. Unlike this test sphere, those are radioactive and segmentation is necessary for decommissioning and disposal. The sphere segmentation requires two cuts, as one would quarter an apple, and each cut must be continuous without stopping to change the diamond wire. Bluegrass achieved this by engineering and fabricating a saw capable of holding 125' of diamond wire, double the normal capacity. Another challenge faced in engineering this custom-built diamond wire saw for use in a nuclear waste disposal project was the cooling system. Because water cooling was not an option due to contamination and containment concerns, Bluegrass engineered an air cooled system which effectively used as little as 12 cfm for this dry cut method.
The purpose of this specialized metal cutting saw's trial run on a non-contaminated sphere was observation by contractor EnergySolutions, which will now ship the tested and proven saw to LANL Technical Area 54 for use in decommissioning the remaining radioactive spheres.
Recognized as a global leader in the diamond wire saw industry, Bluegrass Companies Inc. has successful operations domestically as well as internationally including Egypt, Malaysia, Azerbaijan, Puerto Rico, Indonesia, and Australia. We are committed to meeting customer requirements and exceeding customer expectations. Our 48-hour mobilization capabilities, excellent safety record and credentials ensure that time-sensitive projects will be completed professionally and efficiently.
For more information visit us as http://www.BluegrassBit.com.
Call 1-800-320-1462 or email: info(at)bluegrassbit(dot)com.