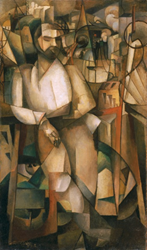 In 1913, why did President Theodore Roosevelt call Cubism 'repellent'? Find out May 5 at the Bryn Mawr Film Institute.
Bryn Mawr, Pennsylvania (PRWEB) April 22, 2014
In 1913, the International Exhibition of Modern Art, which became known simply as the "Armory Show," changed the face of art in America. At this ground-breaking show, many Americans had their first taste of a new, revolutionary kind of art. By entering the doors of an armory located between 25th and 26th Streets in New York City, they entered the modern era.
Connecticut-based independent filmmakers Michael Maglaras and Terri Templeton of 217 Films will screen their latest film "The Great Confusion: The 1913 Armory Show" in a Pennsylvania premiere at Bryn Mawr Film Institute on Monday, May 5 at 7:00 PM. The filmmakers will be in attendance and will participate in a Q&A following the screening.
From February 17 until March 15, 1913, Americans by the thousands pushed their way through the doors of the 69th Regiment Armory to experience "Modern Art" for the first time. What they saw annoyed and infuriated some, and captivated, delighted, and inspired many.
President Theodore Roosevelt, upon visiting the exhibition, called the most modern of these works "repellent". That was just the beginning of the controversy surrounding this historic exhibition.
What resulted from these four weeks of mass exposure to European artists such as Cézanne, Renoir, Van Gogh, and the upstart Marcel Duchamp with his "Nude Descending a Staircase"—as well as such Americans as Marsden Hartley, John Marin, and Charles Sheeler—changed how Americans came to understand their own times.
Excerpts from the film can be viewed at http://vimeo.com/two17films/videos.
"The Great Confusion: The 1913 Armory Show" features works by more than 60 American and European painters and sculptors. The film probes deeply into the history of how the show was organized; examines the critical efforts of American artists such as Arthur B. Davies, Walter Pach, and Walt Kuhn; and explores the impact that the show had on collectors of art as well as ordinary citizens.
WHAT: Pennsylvania premiere of 217 Films' "The Great Confusion: The 1913 Armory Show." The filmmakers will be in attendance and introduce the screening.
WHEN: Monday, May 5, 2014 at 7:00pm
WHERE: Bryn Mawr Film Institute
824 West Lancaster Ave.
Bryn Mawr, Pennsylvania
Directions: http://www.brynmawrfilm.org/visit/
Parking: http://www.brynmawrfilm.org/visit/parking.php
TEL: 610-527-9898
COST: General Admission: $12.00
Seniors (65+): $9.00
Students with valid I.D./Children Under 18: $8.00
BMFI members: $6.50
On the Web:
217 Films: http://www.two17films.com
Bryn Mawr Film Institute: http://www.brynmawrfilm.org
###