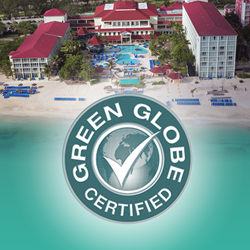 We are excited to be recognized by Green Globe for our efforts. Conservation and sustainability are very important. To us, Earth Day is every day.
Nassau, The Bahamas (PRWEB) April 22, 2014
Today the world celebrates Earth Day, but for Muna Issa and the staff of Breezes Bahamas, Earth Day is every day. Breezes Bahamas recently earned its first Green Globe Certification recognizing its commitment to sustainable operations and environmental awareness. With a designated "Green Team" on staff, the Super-Inclusive resort has made conservation and green initiatives a priority to reduce waste, be more energy efficient and protect the local environment - all while ensuring their guests are comfortable and happy.
"We are excited to be recognized by Green Globe for our efforts," said Muna Issa, vice president of operations to SuperClubs - Breezes' parent company. "Conservation and sustainability are very important. To us, Earth Day is every day."
Green Globe is the global travel and tourism industries' certification program for sustainable tourism. Members save energy and water resources, reduce operational costs, and positively contribute to local communities and their environment. Among Breezes Bahamas' efforts to meet these standards are: reducing landfill by composting organic waste to nurture the hotel's herb and vegetable gardens; taking an active and aggressive role in reducing waste by recycling products used in the operational process, i.e., cardboard, paper, cans, oils, etc.; purchasing from suppliers who produce products that result in minimal impact to the environment; equipping the entire resort with energy efficient lighting and energy management control systems; and educating guests on a number of ways to conserve energy during their stay. The resort has also partnered with the Bahamas National Trust, a local organization that supports conservation and works with local communities on promoting green initiatives and environmentally sustainable objectives.
Located on legendary Cable Beach, Breezes Bahamas is a playful paradise for occasions of all sorts—a quick reprieve from the cold, an economical spring break, or a memorable honeymoon. Breezes' "Super-Inclusive" concept offers the best vacation value. For one single payment, singles, couples and families with children ages 14+ can enjoy unlimited premium drinks and meals at multiple dining locations – including the just-opened Banana Boat, a nautical themed indoor/outdoor restaurant featuring a sushi bar, carving station, cheese and wine display, plus a regularly rotating selection of salads, antipasto, breads, soups and daily specials.
A multitude of land and water sports (equipment and instruction) are also at the disposal of guests. Activities range from rock wall climbing, tennis, and beach volleyball to kayaking and windsurfing. And now, for extra comfortable beach lounging, Breezes has introduced private beachside cabanas for rent ($20 daily), which come with waiter service.
For a little indulgence, the à la carte Blue Mahoe Spa has a full menu of relaxing options. At night, a lively piano bar stays open until the last person leaves. Plus, guests can take their chances at one of the many nearby casinos.
Suggested Tweet: Every Day is Earth Day @Breezes_Resorts #BreezesEarthDayEveryDay
For more information or reservations, visit http://www.breezes.com, call 1-877-BREEZES (273-3937) or contact a local travel agent.