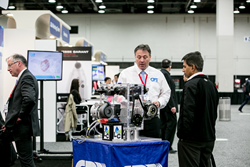 "The SAE World Congress continues to be an important part of the automotive industry. This year the Congress continued its successful momentum in showcasing the latest automotive technical advancements, " Patti Kreh, Manager, Engineering Events, SAE
WARRENDALE, Pa. (PRWEB) April 22, 2014
Hyundai served as Host Company for a very successful SAE 2014 World Congress, held April 8-10 in Detroit. With a theme of "Creating New Possibilities," the SAE World Congress saw increases in attendees, exhibitors, sponsors and technical papers over the previous year.
In addition to Host Company, Hyundai, Delphi served as the Tier One Strategic Partner for the event.
"The SAE World Congress continues to be an important part of the automotive industry. This year the Congress continued its successful momentum in showcasing the latest automotive technical advancements," Patti Kreh, Manager, Engineering Events for SAE International, said. "Hyundai and Delphi provided tremendous strategic leadership and helped to create new elements, such as the Young Professionals program which are critical in developing the next generation of leaders for the automotive industry."
Highlights from the SAE 2014 World Congress included:

11,068 attendees from 54 countries; including significant representation from South Korea, Germany, Japan, China, Canada, United Kingdom, India and Italy
190 exhibiting companies, including 48 sponsors
More than 1,700 technical presentations and1,474 published technical papers
The new Young Professionals programs attracted more than 500 participants
Speed mentoring programs attracted more than 45 high-level executives who provided personal stories and career advice in an informal setting.
The 2014 Ride and Drive featured more than 20 different vehicles, including the Hyundai Genesis; more than 1,600 drivers participated.
Woong-chul Yang, Vice Chairman, R&D Planning, Hyundai Motor Group, delivered the keynote address at the World Congress Annual Banquet. Other keynotes during the week included Kevin Vincent, Chief Counsel for the National Highway Traffic Safety Administration; Rick Snyder, Governor of the State of Michigan; Dr. Peter Phleps, Senior Research/Futurist with the Institute for Mobility Research, BMW Group; and Myles Kovacs, President/Co-Founder, DUB Magazine.
SAE World Congress officials also announced that Honda will serve as Host Company for the SAE 2015 World Congress. The theme of the event will be "Leading Mobility Innovation." Erik Berkman, Executive Vice President of Honda North America, Inc., will serve as general chair for the SAE 2015 World Congress and Continental will serve as the Tier One Strategic Partner for the event, which will be held April 21-23.
SAE International is a global association committed to being the ultimate knowledge source for the engineering profession. By uniting over 138,000 engineers and technical experts, we drive knowledge and expertise across a broad spectrum of industries. We act on two priorities: encouraging a lifetime of learning for mobility engineering professionals and setting the standards for industry engineering. We strive for a better world through the work of our philanthropic SAE Foundation, including programs like A World in Motion® and the Collegiate Design Series™.