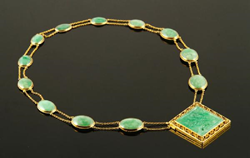 Beverly, MA (PRWEB) April 23, 2014
One of the most exciting items in the upcoming Kaminski Auction is a Mauboussin 18K gold and jadeite necklace. The stunning necklace comes to Kaminski from the collection of actor Edward G. Robinson, most famous for his roles in Little Caesar and Key Largo.
The necklace, made circa 1930, consists of twelve jadeite cabochons strung together by a delicate double gold chain. At the center, it features a one inch square jadeite plaque set in finely worked 18K gold. Mr. Robinson gave the necklace to his wife, Mrs. Gladys Lloyd Robinson, on the occasion of the premier of his movie Little Caesar. It then passed to the consignor's family, and descended to the present generation. The necklace is still housed in the original Mauboussin Paris box, and is accompanied by two photographs of the couple, one of which depicts Mrs. Robinson wearing the necklace at the Little Caesar premier. Presented as lot 3122, the necklace is valued at $30,000 to $50,000.
Preview for the sale will be held April 24th through April 26th, from 10:00am to 5:00pm, with preview hours beginning on April 27th, the day of sale, at 8:00am. Online bidding will be available via KaminskiLIVE. A full catalog is available online at kaminskiauctions.com.
KAMINSKI
Kaminski Auctions, located on the North Shore of Boston, has been serving the New England antiques market for over 25 years as a full service auction house and appraisal service for fine art, antiques and estates.
With two locations in Beverly, Massachusetts, including a new state of the art auction gallery located at 117 Elliott Street, and a historic 1850's barn and office facility at 564 Cabot Street, Kaminski Auctions hosts 25 auctions a year.
In today's highly competitive market of fine art and antiques, Kaminski Auctions provides its customers with bicoastal services and marketing with west coast offices in Beverly Hills and San Diego, California.
Kaminski Auctions offers specialty departments in Asian Art and Antiques, Silver, Glass and Lamps, Couture and Vintage Clothing, Photography and Modern Design . We have highly trained and knowledgable appraisers on staff that will help you determine the true value of your antiques, or entire collections. Free Appraisal days are offered every Tuesday from 10:00am-4:30pm at 117 Elliott Street in Beverly, Massachusetts & by appointment at our San Diego and New York City locations. We welcome emailed photos of your items! Contact consignments(at)kaminskiauctions(dot)com.
We would like to thank all of our customers, consignors and friends for voting Kaminski Auctions #1 Best Auctioneer on the Northshore - Reader's Choice Award! "Kaminski has earned its gold-star reputation by serving the New England antiques market for over 25 years. Specializing in the sale of Asian art and antiques, silver, glass and lamps, couture and vintage clothing, photography, and modern design, the full-service auction house provides expert appraisal services. From its Beverly art gallery and historic barn comes a wealth of experience with fine art, antiques, and estates values." - Northshore Magazine