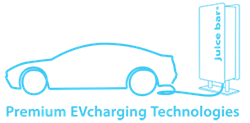 Tolland, CT (PRWEB) April 23, 2014
Juice Bar® EV (the "Company") partnered with web development shop, Nimbletoad, to launch its new website. Built on the drupal framework this website serves as best of breed web practices and functionality.
Juice Bar EV, a premium provider of electric vehicle charging stations, and the Green Garage Oasis® concept, updated the company website from freejuicebar.com to the new address JuiceBarEV.com with its recent increase in production.
The new website showcases a new business model tailored to Juice Bar EV charging station owners. The Company has a client-focused approach, as owners have the choice in customizing their Juice Bar to fit the needs of their facility. This includes the ability to partner with sponsors and advertisers to offset the cost of a charging station, and the choice in charging a fee or offering charging at no cost to the consumer.
"We are about providing owners with the option best suited for their overall business objectives and budget." David Schmid, Managing Partner, Juice Bar EV.
Great care was taken to ensure that the website embodied the customizable, client focused nature of the Juice Bar. The site adapts its display to all modern devices delivering a custom viewing experience whether a user is on a smart phone or a big-screen display. By taking the extra steps to interlink all site content, users can intuitively navigate the site without having to resort to archaic menu trees.
"It is a rare pleasure to develop a site with a company, such as Juice Bar EV, that shares the same unbending desire for quality and end user satisfaction. ", Drew Hendricks, President, Nimbletoad, Inc.
The Juice Bar EV website, highlights the following:

Premium Charging Stations: Level 3 Fast Charger, Quad, and Double
Opportunities to Create a Revenue Stream for Juice Bar EV Owners
Juice Bar Leasing Options
Green Garage Oasis Amenity Center
Case Studies for Vertical Markets
Involvement with Non-Profit and Charitable Organizations
A core Company focused strategy provides owners the opportunity to create income-producing assets with Juice Bar Charging stations. The Juice Bar EV website accommodates for frequent updates, new articles, and additions to product development.
About Juice Bar EV
Juice Bar® EV, is a premium provider of electric vehicle charging stations, and the Green Garage Oasis® concept. The Juice Bar charging station is not just an electric vehicle charging station; Juice Bar is a charging experience. Our highly visible premium charging stations provide an innovative concept in design and branding for Juice Bar EV charging station owners and creates a lifestyle option for end users.
For more information, please visit http://www.JuiceBarEV.com