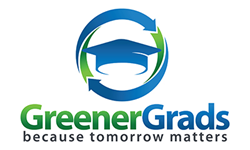 The type of individual problem solving that Greener Grads displays is exactly what we need to address the challenges we face as we work collaboratively to ensure diverse waste streams are sustainably managed and utilized.
Grand Rapids, Mich (PRWEB) April 22, 2014
Greener Grads, a newly formed sustainability company based out of Grand Rapids, MI launches national initiative to recover, reuse and repurpose over 1,000,000 graduation gowns through partnerships with universities, sustainability organizations and more. The company plans to leverage partnerships, locally and nationally, along with charitable efforts to collect graduation gowns and educate on the extensive environmental impact.
"Over five million graduation gowns are worn by students annually, primarily constructed out of polyester which does not biodegrade. The detrimental impact on our environment can no longer be ignored," said Seth Yon, founder of Greener Grads. "When considering the manufacturing process, how briefly the gowns are worn, and the environmental impact the chemicals cause if sent to a landfill – it becomes more difficult to justify buying new product as you realize what a big difference one person can make."
The company will launch partnerships with Kendall College of Art and Design at Ferris State University, Aquinas College, Berea College, University of Louisville, Goodwill Industries of Greater Grand Rapids with plans to expand nationally in 2015.
"The option of recycling graduation gowns is a great opportunity for schools to take the lead in getting this large source of material out of our landfills," said Kristine Moffett, president of Michigan Green Schools. "This is an activity that can help Michigan boost its recycling volume and also save schools some disposal weight dollars."
Because graduation gowns are mass-produced from acetate and polyester (both produced using fossil fuels), those tossed in the trash bear little to no hope of biodegrading. Gowns used across all graduations are made from the same material with dyes that are extremely toxic to the environment. Through Greener Grads founder Seth Yon hopes to drastically reduce the scholastic ecological footprint and change the way graduation is done.
"The type of individual problem solving that Greener Grads displays is exactly what we need to address the challenges we face as we work collaboratively to ensure diverse waste streams are sustainably managed and utilized," said Matt Flechter, recycling and composting specialist at the Michigan Department of Environmental Quality.
Anyone can participate in collection efforts, as gowns of all ages, sizes and colors are accepted for the recycling programs. Gowns can be dropped off at all Goodwill of Greater Grand Rapids locations or at any participating college.
"Greener Grads has a unique program that aligns with Goodwill Industries of Greater Grand Rapids sustainability efforts," explained Jill Wallace, chief marketing & communications officer at Goodwill Industries of Greater Grand Rapids. "Just as Goodwill maximizes its donations for the betterment of those we serve, Greener Grads is focused on maximizing the sustainability of graduation apparel, while keeping costs at a minimum for the consumer."
For more information about Greener Grads or to participate in the movement visit, http://www.greenergrads.org.
About Greener Grads:
The Greener Grads story begins in the brain of Seth Yon, a former employee of a graduation industry giant who wanted to utilize his unique skill set to make the world a better place.
After 11 years with the company and delivering a career volume of over $9 million of product, Seth decided to take his vast knowledge of the industry and form Michigan Grads, a West Michigan-based company focused on offering students and their families environmentally friendly graduation products at a more affordable price.
Now with the launch of Greener Grads, Seth introduces a clever way to repurpose, re-use and recycle, shifting his focus to a wider audience and moving one step closer to becoming an environmentally-conscience leader in the graduation industry. To Seth, Greener Grads isn't about getting rich, "it's about getting it right. If I can be part of a small change, then I want to do that. Every gown counts."
About Kendall College of Art and Design at Ferris State University: As a college within Ferris State University, Kendall College of Art and Design prepares students for leadership in the visual arts, design, art history, and art education; provides innovative, collaborative education that fosters intellectual growth and individual creativity; and promotes the ethical and civic responsibilities of artists and designers, locally and globally.
About Aquinas College:
Aquinas College, an inclusive educational community rooted in the Catholic Dominican tradition, provides a liberal arts education with a global perspective, emphasizes career preparation focused on leadership and service to others, and fosters a commitment to lifelong learning dedicated to the pursuit of truth and the common good.
University of Louisville:
The University of Louisville is a state supported research university located in Kentucky's largest metropolitan area. It was a municipally supported public institution for many decades prior to joining the university system in 1970. The University has three campuses. The 287-acre Belknap Campus is three miles from downtown Louisville and houses seven of the university's 12 colleges and schools. The Health Sciences Center is situated in downtown Louisville's medical complex and houses the university's health related programs and the University of Louisville Hospital. The 243-acre Shelby Campus is located in eastern Jefferson County.
Berea College:
Berea College, founded by ardent abolitionists and radical reformers, continues today as an educational institution still firmly rooted in its historic purpose "to promote the cause of Christ." Adherence to the College's scriptural foundation, "God has made of one blood all peoples of the earth," shapes the College's culture and programs so that students and staff alike can work toward both personal goals and a vision of a world shaped by Christian values, such as the power of love over hate, human dignity and equality, and peace with justice. This environment frees persons to be active learners, workers, and servers as members of the academic community and as citizens of the world. The Berea experience nurtures intellectual, physical, aesthetic, emotional, and spiritual potentials and with those the power to make meaningful commitments and translate them into action.
About Goodwill Industries of Greater Grand Rapids:
Goodwill Industries of Greater Grand Rapids, Inc. is a non-profit organization dedicated to changing lives through the power of work. Since 1966, the organization has offered a wide range of employment and training programs to assist those with disabilities and other barriers to employment in developing their marketable skills in order to find meaningful employment. Its efforts are supported by revenues from its 18 retail stores in an eight-county area, as well as from monetary donations. For more information, visit http://www.goodwillgr.org. Follow us on Twitter: @goodwillgr or find us on Facebook: Facebook.com/goodwillgr.