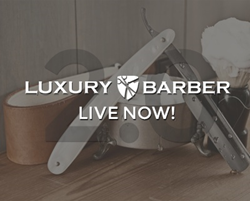 During the first week of the launch, the Luxury Barber will celebrate by offering 20% off on all purchases using code: 20NEWLB
Hallandale Beach, FL (PRWEB) April 23, 2014
Men can now tailor every aspect of their grooming routine with ease, using the innovative Luxury Barber 2.0. The Luxury Barber has always been a premiere destination for all things grooming with their large line up of brands including: Baxter of California, Taylor of Old Bond, John Allans, and Regenepure, but it has now been taken to the next level as a custom social experience.
This site rivals all others through its interactive components, making the shopping process engaging and eventful. Their e-commerce facelift embraces the grooming community and truly lives up to the Luxury Barber brand promise of actively exploring new grooming solutions for each man. With this in mind, the Luxury Barber has transformed into a social hub for shopping, customer inputs, personalized grooming routines, and "The Mancave", a blog full of men's fashion, grooming, and lifestyle tips.
Whether you're shopping for yourself or the perfect gift, Luxury Barber has a wide selection of options for your face, body, hair, and shaving routines along with dedicated consumer care and quick shipping to bring enjoyment back to online shopping.
During the first week of the launch, the Luxury Barber will celebrate by offering 20% off on all purchases using code: 20NEWLB. (April 21st until April 28th)
Explore the new way to shop grooming at Luxury Barber 2.0 by visiting LuxuryBarber.com today.
About Luxury Barber
The Luxury Barber is a dynamic online destination for men who are looking for essential grooming products and solutions. At the Luxury Barber, we believe that being a gentleman and maintaining a well-groomed lifestyle should be accessible to everyone. Aside from striving to educate and inform our audience, we offer a wide selection of men's hygiene and grooming products for shaving, hair, face, body, and anti-aging. We feature our own premium private label men's products, and work meticulously to handpick the brands featured on Luxury Barber to give our customers everything they'll need to achieve success.
###
Contact:
Charnele Michel
Luxury Barber, Inc.
Press(at)luxurybarber(dot)com
(877) 401-4884