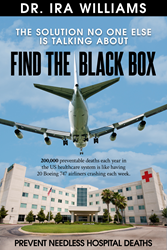 "Who wants to hear a plan for a 21st Century health care delivery system?"
Greenville, SC (PRWEB) April 24, 2014
Dr. Christine Cassel, the newest National Quality Forum President and CEO (http://is.gd/REk9PX) recently accepted Dr. Williams' request to share viewpoints on contrasting methods seeking such improvements.
Dr. Williams' latest Open Letter (http://is.gd/wdU2CM) on his Find The Black Box web site shares that brief conversation. He and Dr. Cassel compare his offer to provide a plan for a 21st Century health care delivery system with the NQF efforts using centrally created standards.
Both doctors agree that our current health care system is chockfull of problems, and beset by multiple groups of experts who have been diligently seeking for the past quarter century to make that non-system better. Yet every new estimate of needless hospital deaths is significantly greater than all previous estimates. Dr. Williams offers a new and different approach that focuses on each state's responsibility.
Dr. Williams says, "The importance of such conversations is, in my view, directly related to the consistent, and dramatic increases in every new estimate of needless hospital deaths. The latest, strongly supported estimate of such tragedies referenced above should demand that every form of patient safety improvement effort heralded in the past two decades be scrutinized as to their respective effectiveness."
Dr. Williams asks, "Are the quality of health care, and patient safety experts open to his offer of a plan for a 21st Century health care delivery system, since the need is so urgent, and so obvious?"