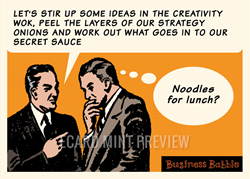 Often humour proves a valuable tool for organisations, especially when building relationships with clients, customers and employees.
London, UK (PRWEB) April 24, 2014
Ecard Mint, specialists in the design and distribution of business ecards, has created a new category filled with funny electronic greetings cards for users of the site to send on behalf of their organisation.
The London-based company has developed a range of Ecard styles for the new category which uses humorous captions or speech bubbles, complemented by old-fashioned illustrations or vintage photographs.
The corporate ecards have been designed without specific greetings or holidays in mind and can be used for a variety of occasions. One of the ecards in the category from the 'Business Babble' range (pictured) shows a businessman speaking with his colleague as he suggests: 'Let's stir up some ideas in the creativity wok, peel the layers of our strategy onions and work out what goes in to our secret sauce.' In an effort to decipher the jargon, the fellow office worker's thought-bubble shows one possibility in response: 'Noodles for lunch?' This company ecard design is just one of four versions offering a choice of different background colours along with assorted corporate jargon speech balloons and thought bubble punchlines.
From illustrated cards which poke gentle fun at the use of management lingo to satirical captioned photographs, these funny ecards have been created to capitalise on the popular trend of coupling vintage and nostalgic images with a satirical statements.
Owner and Managing Director of Ecard Mint Nick Hellman comments: 'Often humour proves a valuable tool for organisations, especially when building relationships with clients, customers and employees. So we decided to introduce some vintage-style humour cards to our catalogue to give our users the option of communicating business to business in a more relaxed and friendly manner.'
The leading corporate ecard site has also expanded its Birthday and Christmas ecard categories, with the introduction of similar retro-style, funny caption cards.
Ecard Mint provide various pricing options for all business sizes and budgets, including a one-off 'Pay As You Go' account or Silver membership which allows you to send your first card free when you sign-up.
ABOUT
http://www.ecardmint.com is a provider of bespoke business ecards with over five years' experience in the industry. Based in London, the company was launched under Katie's cards http://www.katiescards.com/ to offer a specialist B2B service for corporate greetings and marketing communications. For more information, follow Ecard Mint on Twitter and LinkedIn.
CONTACT
Telephone: +44 (0)20 8274 2069
Email: info(at)ecardmint(dot)com
Copyright information: This article is free for reproduction but must be reproduced in its entirety, including live links & images; this copyright statement must be included.