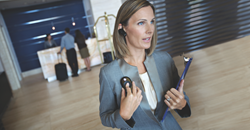 The instantaneous, one-to-many communication enabled by two-radios makes hotel staff more efficient in addressing guest requests and resolving issues with facilities.
Dallas, TX (PRWEB) April 24, 2014
BearCom, a nationwide provider of wireless communications equipment and solutions, today detailed the areas of hotel operations where two-way radios have a significant impact on the guest experience.
"Success in the hospitality industry is all about being responsive to guests' needs," said Hugh Johnston, Product & Purchasing Manager at BearCom. "The instantaneous, one-to-many communication enabled by two-radios makes hotel staff more efficient in addressing guest requests and resolving issues with facilities."
Johnston noted that there are various areas of hotel management where the efficiency of two-way radio communication improves staff collaboration to enhance operations and guest services:
Managers/Front Desk: Turn rooms faster. Notify housekeeping when a guest has checked out or is ready to check in.
Facilities/Maintenance: Quickly respond to problems or special requests. Notify maintenance staff of issues with guest rooms or onsite facilities.
Housekeeping: Respond to guests' needs more efficiently. Communicate to nearest staff regarding guest requests or service issues.
Security: Prioritize guest safety. Address incidents and risks in the most efficient manner.
Valet/Shuttle Service: Improve speed in valet car retrieval and coordinate guest departures and arrivals with transportation services.
Food Service: Provide faster, more responsive guest services. Communicate instantly with banquet team, room service, and on-site restaurant staff.
Johnston said two series of radios from Motorola Solutions are especially well suited for hotel food service employees. He listed the Motorola CLS1110 and Motorola CLS1410, as well as the CLP Series, which includes the Motorola CLP1010, Motorola CLP1040, and Motorola CLP1060.
Motorola CLS Series portable radios are compact, lightweight, and compatible with a variety of accessories. They also are affordable, which allows hotels/motels to purchase larger fleets at lower costs. Simplified charging and cloning make CLS radios easy to manage, and they are so simple to use that little or no training is required. The CLS series is recommended for hotels up to 225,000 square feet and up to seven stories.
Motorola CLP Series radios are even lighter and smaller. Their design integrates an earpiece, which makes for even more discreet communications. The CLP1010, CLP1040, and CLP1060 are very easy to use, as they integrate only the essential accessory elements. For larger hotel campuses, CLP radios can be integrated with repeaters to further improve range.
Reliable and instant communication is imperative in a guest-centric industry like hospitality. "Two-way radios help hotel staff make guests feel valued and well taken care of," Johnston said. "In the hospitality industry, the difference between a one-time guest and a repeat customer is based on providing an exceptional guest experience."
For more information about Motorola CLS and CLP Series two-way radios for hotel operations, please visit http://www.BearCom.com or call 800.527.1670.
About BearCom
BearCom provides a broad line of high-performance wireless communications products, services, and complete mobility solutions. Founded in 1981, BearCom is America's only nationwide dealer and integrator of wireless communications equipment, serves customers from 26 branch offices located throughout the U.S., has several affiliated offices around the world, and employs approximately 400 people. BearCom is headquartered in the Dallas, Texas area. For more information, visit http://www.BearCom.com.
MOTOROLA, MOTOROLA SOLUTIONS and the Stylized M Logo are trademarks or registered trademarks of Motorola Trademark Holdings, LLC and are used under license. All other trademarks are the property of their respective owners. ©2014 Motorola Solutions, Inc. All rights reserved.