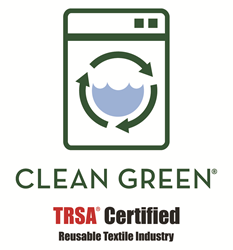 "We pride ourselves on clean operations and a strong sense of responsibility to the communities in which we operate," said Brian Keegan, SVP of Plant Operations and Supply Chain for AmeriPride.
Minneapolis, Minn. (PRWEB) April 22, 2014
With a business model that utilizes environmentally sustainable practices across every arm of its operations, AmeriPride Services today reaffirmed its commitment to conserving and recycling natural resources while maintaining superior quality customer service. In conjunction with Earth Day, the leading supplier of linen and uniform rental services in North America acknowledged ongoing efforts to enhance efficiencies in its plants, delivery fleets and headquarters.
"We pride ourselves on clean operations and a strong sense of responsibility to the communities in which we operate," said Brian Keegan, SVP of Plant Operations and Supply Chain for AmeriPride. "Our dedication to the environment and investment in environmentally sustainable operations, including several exciting pilot programs we're currently working on, also often translates into cost savings and more efficient service for our valued customers."
AmeriPride has a history of environmentally friendly laundering, from recycling towels and linens to using only NPE-free detergents. It was one of the first companies to implement the industry's Voluntary Environmental Stewardship Program (Laundry ESP), and many of its plants feature reclamation equipment that captures heat energy used in boilers, ironers and dryers and recycles it back into those processes. In addition, water used to clean lightly soiled products is often re-used to wash more heavily soiled items like floor mats, and all plants now feature energy-efficient lighting.
"Outside of our facilities, AmeriPride also has numerous initiatives within its fleet operations to reduce energy consumption and its overall carbon footprint," said Keegan. "Our latest efforts include piloting alternative fuel vehicles in several markets and implementing a company-wide telematics technology that monitors speeding and idling to improve fuel efficiency."
Other fleet initiatives the company employs include idle shut-off on most diesel engine vehicles, replacing many cargo vans with fuel-efficient sedans, improved controls to keep tires properly inflated, aerodynamic skirting on trailers and double-decker trailers to increase carrying capacity and rerouting the majority of service center routes to reduce mileage. In addition, AmeriPride promotes behavioral change and awareness among its drivers through weekly speeding and idling reports.
AmeriPride's corporate headquarters features its own energy-saving measures. These include a hot aisle containment system that monitors and contains heat generated by data center servers, reducing the company's energy usage while increasing performance. Since integrating this system several years ago, AmeriPride has cut its energy consumption in this area in half. Additionally, the company utilizes a service that monitors electronic devices connected to the server and can power them down if left on.
The company's sustainability efforts contributed to achieving TRSA's 'Clean Green' certification earlier in 2014, signifying that its production facilities meet the highest international standards for efficiencies in water and energy conservation and adopting best management practices for reusing, reclaiming and recycling resources. The certification provided third-party verification that the uniforms, linens, mats, towels and other reusable textiles procured from AmeriPride are laundered in an environmentally friendly manner.
To learn more about AmeriPride's commitment to corporate responsibility, visit http://www.ameripride.com/about-us/corporate-responsibility/.
About AmeriPride
Headquartered in Minnetonka, Minn., AmeriPride Services is recognized as one of the largest uniform rental and linen supply companies in North America. Operating more than 115 production facilities and service centers throughout the United States and Canada, AmeriPride provides linen and towels, uniforms, floor mats, restroom and cleaning products to nearly 150,000 customers every week. Founded in 1889 by George and Frank Steiner, the privately held company is still owned and managed by the Steiner family. Commitment to the customer, personalized service and innovation has sustained the company for 125 years. Additional company information can be found online at http://www.ameripride.com.