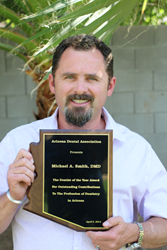 Phoenix, AZ (PRWEB) April 22, 2014
The recipient of the Dentist of the Year Award is Michael A. Smith, DMD, The Biting Edge Family Dentistry, of Phoenix.
Following in his father's and grandfather's footsteps, native Phoenician Dr. Michael A. Smith operates The Biting Edge Family Dentistry in Central Phoenix, Arizona. After attending Northern Arizona University (NAU), he received his DMD from the University of Louisville in 1993.
He has served as Central Arizona Dental Society President, President of the Phoenix Esthetic Study Club, and President of the Rotary Club of America Squaw Peak Chapter, and as an Adult Leader for the Boy Scouts of America. Currently he holds a dual role as Arizona Dental Foundation and Arizona Community Dental Clinic Chair.
Dr. Smith is driven by a dream to create a dental home that responds to the needs of our most vulnerable citizens. From fundraising to treating patients in the clinic, soliciting volunteers, addressing clinic design and protocol issues, completing Donated Dental Services cases in his office, volunteering at Give Kids a Smile, Christina's Smiles, Mission of Mercy, and Special Olympics-Special Smiles, he is leading the way 24/7.
If that's not enough, on any given weekend, he can be found conducting lectures in aesthetic, restorative, and occlusion across the country. Dedicated to family life, he spends his remaining time with his wife Jan, son Alex, and daughter Christine.
The Arizona Dental Association (AzDA) is proud to announce that Dr. Smith's dream came true this year with the opening of the Arizona Community Dental Clinic (ACDC). Dr. Smith has been the primary driving force to the opening of this clinic. The ACDC Clinic is dedicated to providing a permanent solution to dental access for vulnerable populations, and because of his persistence and dedication, this dream became a reality.
The Arizona Dental Association would like to thank Dr. Smith, for making the ACDC clinic a reality, and for his continuous dedication and support to AzDA, our community, and dentists nationwide. Congratulations!
To reach Dr. Smith, please contact The Biting Edge at 602-279-7312 or visit http://www.thebitingedge.com.
For more information regarding the ACDC clinic or to make a donation, please visit http://www.azdentalfoundation.org or http://www.acdcdental.org.