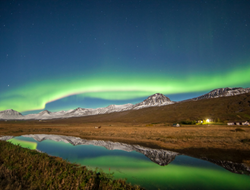 Iceland is fast becoming one of the hottest travel destinations, and in honor of Earth Day, GreatValueVacations has introduced 14 new vacation packages which feature the destination.
Rockville Centre, NY (PRWEB) April 23, 2014
Iceland is fast becoming one of the hottest travel destinations, and in honor of Earth Day, GreatValueVacations has introduced 14 new vacation packages which feature the destination. The lowest price Iceland getaway — Iceland Winter Stopover With Northern Lights — is priced from $886 per person for 4 nights.
Reykjavik, the northernmost capital of the world, boasts a wide array of exciting activities and attractions. Pure, clean, and vibrant, Reykjavik is the perfect setting for a relaxing yet refreshing vacation. Dominated by a range of majestic mountains to the east and divided by one of the country's best salmon rivers, the city of Reykjavík is a tempting attraction for anyone who loves to combine a lively city experience with the wholesome sights and sounds of nature.
Highlights of this vacation include a Northern Lights hunt tour – which only takes place during the winter months — and showcases this spectacular natural phenomenon that creates a wonderful light effect. Additionally, participants take an evening excursion to the renowned Blue Lagoon to relax in the geothermal spa. Plus, there is plenty of free time for travelers to design their own personalized experience to include as much of the city's famous natural offerings, arts and culture, renowned dining, local designer shopping, health and wellness facilities, and/or exciting nightlife as they would like!
GreatValueVacation's Iceland Winter Stopover With Northern Lights 4 night vacation package includes:

Round-trip economy class airfare to Reykjavik/Keflavik (KEF)
Round-trip airport transfers via Flybus Airport Shuttle
4 nights in Reykjavik at the Icelandair Hotel Reykjavik Natura
Daily breakfast
Northern Lights Tour
Non-guided coach tour to the Blue Lagoon (including bathing fee)
This package is priced from $886 from New York, $1,355 from Atlanta, $886 from Boston, $1,265 from Chicago, $1,185 from Los Angeles, $1,171 from Orlando, $1,047 from Washington, DC, and $1,216 from San Francisco based on travel on select dates in November and December 2014. Prices are per person, double occupancy, based on 7-day advance purchase.
Other departure dates and origins are available at slightly higher rates. Prices include round-trip economy class airfare including carrier and government-imposed taxes and fees including the September 11th Security Fee of $2.50 per enplanement originating at a U.S. airport. Fluctuations in exchange rates may affect some taxes or fees.
Why we love this package:

It includes the perfect balance of "must-see" activities with free time, so travelers can personalize their trip the way they like!
It showcases Reykjavík as a city of bold contrasts, with something for everyone: both cosmopolitan and small-town; vibrant and sophisticated; young-at-heart and yet full of history.
Travelers will experience the Northern Lights — a spectacular natural phenomenon that only takes place during winter months, often seen dancing around in fantastic colors across the Icelandic Arctic sky.
Participants enjoy an evening visit to the world-famous Blue Lagoon – an incredible geothermal spa set in an otherworldly area, where lava and thermal water meet and complement each other.
(Note to Editors: We can provide pricing from the nearest gateway city to you upon request.)
For additional information on all of GreatValueVacations' Iceland Winter Stopover With Northern Lights vacation package, click here or call 800-896-4600. To see all of the GreatValueVacations' Iceland vacations, visit http://www.greatvaluevacations.com/vacation-packages/iceland.
About GreatValueVacations
GreatValueVacations is changing the way consumers travel by creating expertly designed, high-quality, air-inclusive vacations to compelling destinations at affordable prices. With so many online resources to find air, hotels, transportation, and more, consumers can spend many hours doing research trying to put it all together. GreatValueVacations takes the guesswork out of planning the perfect vacation by doing all of the legwork and packaging upscale travel products that have been vetted by destination experts. GreatValueVacations also offers advice and recommendations on what to see and do in each locale, and provides customer support every step of the way. Additionally, GreatValueVacations' state-of-the-art technology offers the ability to book complicated vacations in just a few clicks.
For additional information, visit http://www.GreatValueVacations.com or call 800-896-4600.