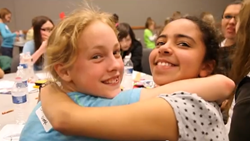 The support that KVC provides to foster families through the annual Resource Family Conference is tremendous. -Phyllis Gilmore, DCF Secretary
Olathe, KS (PRWEB) April 23, 2014
KVC Health Systems, a national child welfare and behavioral healthcare organization headquartered in Olathe, Kan., will host its 16th Annual Resource Family Conference April 25-26 at the Overland Park Marriott in Overland Park, Kan. The event is a one-of-a-kind training opportunity for foster families who are caring for children who have experienced abuse, neglect or other family challenges, and are temporarily in state custody. Portions of the event are simulcast to similar KVC gatherings in Omaha, Neb. and Daniels, W. Va., for a total audience of more than 1,500 participants.
Jimmy Wayne, country music artist, is the keynote speaker. Wayne is from Kings Mountain, N.C., and faced a troubled childhood that included a mother in prison, years of going in and out of the foster care system and time in a juvenile detention center. His stories and music will inspire adults about the tremendous impact they can make in the life of a child and inspire children to dream big and believe in themselves.
KVC has provided family services on behalf of the Kansas Department for Children and Families (DCF) since 1996. KVC cares for more than 3,000 children and families, which is more than 50 percent of all children served by the State agency. While KVC does receive some reimbursement from the State for services, events such as the conference are underwritten by generous companies, foundations and individuals in the community through KVC's Gala.
"I appreciate the ongoing dedication and commitment KVC has demonstrated to improve the lives of Kansas children and families," DCF Secretary Phyllis Gilmore said. "The support that KVC provides to foster care families through the annual Resource Family Conference is tremendous."
"Resource" families, which include foster, adoptive and biological parents, will learn about topics such as handling behavior challenges, repairing the effects of stress and trauma, and transition planning into adulthood, while children enjoy fun activities like games, bouncy houses and talent shows. KVC covers the cost of the hotel rooms, giving children in foster care a positive, life-changing experience.
"The Resource Family Conference is something that many of the children in foster care look forward to all year long," said B. Wayne Sims, president and CEO of KVC Health Systems. "We're proud to be able to provide this benefit to our foster families, and it simply wouldn't be possible without the businesses, families and individuals who support KVC's events including The Gala."
KVC's next Gala will be held Nov. 21, 2014, at the Historic Firestone Building in downtown Kansas City, Mo. Learn more at http://www.kvc.org.
###
About KVC Health Systems, Inc.
KVC Health Systems, headquartered in the greater Kansas City area, is a private, nonprofit 501(c)3 organization committed to enriching and enhancing the lives of children and families by providing medical and behavioral healthcare, social services, and education. KVC's diverse continuum of services includes foster care, adoption, in-home family therapy, behavioral healthcare, and children's psychiatric hospitals. In its 44-year history, KVC has grown since from a single Kansas home for boys to a national organization serving tens of thousands of children in five states and Washington, D.C. Due to KVC's leadership in the use of evidence-based research to achieve better outcomes and advance child welfare, the Annie E. Casey Foundation recently endorsed KVC as a best-practice organization. Learn more at http://www.kvc.org.